Coffee is one of the most popular drinks for many Hong Kong people, which can help you to improve your efficiency at work. You can enjoy a relaxing time from busy day with a great cup of coffee anytime now. The Panasonic NC-ZA1 is a fully automatic espresso machine that can brew a variety of coffee (Espresso, Cappuccino, Latte Macchiato and Café). From robust espresso to milky cappuccino and coffee, you get the ideal mixture of freshly ground coffee, steamed milk and hot water, all automatically.
The Panasonic Automatic Espresso Machine NC-ZA1 can be easily operated entirely from the front panel for your convenience. The advanced color touch screen operation is simple and makes operation intuitive, so you can prepare truly delicious coffee. Its fully automatic operation can brew two cups of coffee with a single brew. The coffee grinder is adjustable which can make the most fine and flavorful coffee. Hardened steel is used to keep each grain of coffee almost identical in fineness, for long-lasting, rich coffee aroma. You can also adjust your own favorite pure smooth espresso with coffee powder or coffee beans. It is equipped with 4 foamed milk settings, which allows you to set the amount of foamed milk to suit your personal preference.


NC-ZA1 has a memory that can store up to four combinations based on your personal preferences. It gives you the control of choosing your ideal temperature, coffee strength and amount, milk proportion and amount of foamed milk at the touch of one button to get coffee exactly the flavor you want. For keeping a low temperature of milk, newly launched Panasonic milk tank NC-ZM1 is designed for use with NC-ZA1 Espresso machine.
NC-ZA1 is designed with stainless steel exterior and translucent colors matches the intelligent features within to create a coffee machine that functions as perfectly as it looks. The elegant LED lighting and cup illumination makes it easy to use at all times of days as well as being extremely stylish for your home kitchen and office.
Product Specifications
| | |
| --- | --- |
| Power Consumption | 1550 W |
| Capacity | 1.4 L |
| Pump Pressure (bar) | 15 |
| Weight (approx.) | 10.3 kg |
| Dimensions (H X W X D) | 33.5 X 19.5 X 41.0 cm |
| Length of power cord | 115cm |
NC-ZA1 Suggested Retail Price HK$ 8,980
Click here for detail product information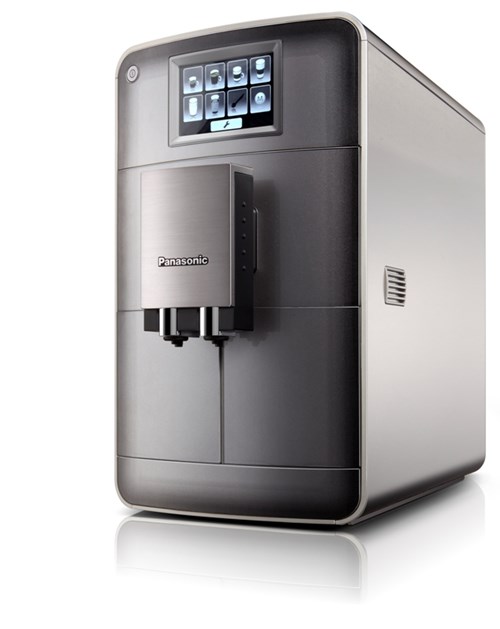 NC-ZM1
NC-ZM1 Suggested Retail Price: HK$ 428
Click here for detail product information