Aroma Facial Ionic Steamer
Suggested Retail Price HK$3,480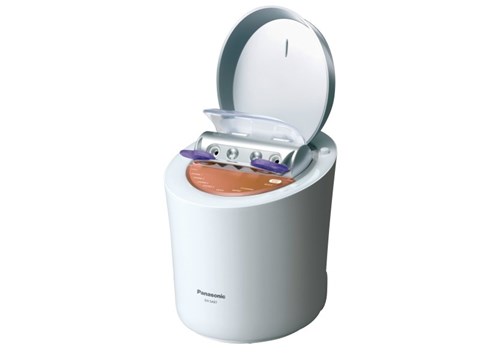 Highlights
Tiny ionic steam, utilized by nano technology, can penetrate into skin for deep moisture retention to balance excessive facial oil, soften the skin cuticles and revitalize skin elasticity

Enjoying the scent of aroma while using the steamer

Alternating warm steam and cool mist invigorates skin cells by double warm steam and cool mist outlets, which can boost metabolism so that skin can be reborn shiny and beautifully
Features
Tiny ionic steam, utilized by nano technology, can penetrate into skin for deep moisture retention to balance excessive facial oil, soften the skin cuticles and revitalize skin elasticity

Enjoying the scent of aroma while using the steamer

Alternating warm steam and cool mist invigorates skin cells by double warm steam and cool mist outlets, which can boost metabolism so that skin can be reborn shiny and beautifully

About 40°C steam can enhance smooth make-up and removal

7 automatic beauty programs: Clear Skin, Skin Fitness / Elasticity, Sebum Care, Soft Skin, Quick Heating & Cooling, Warm Steam and Cleansing which can be enjoyed by people with various skin types

1-minute quick steam generation
Detachable water tank for easy cleaning

Compact design with protective lid

2 aroma flavors: Lavender (EH-4S11) & bergamot (EH-4S12)

AC 220-240V
Country of origin: China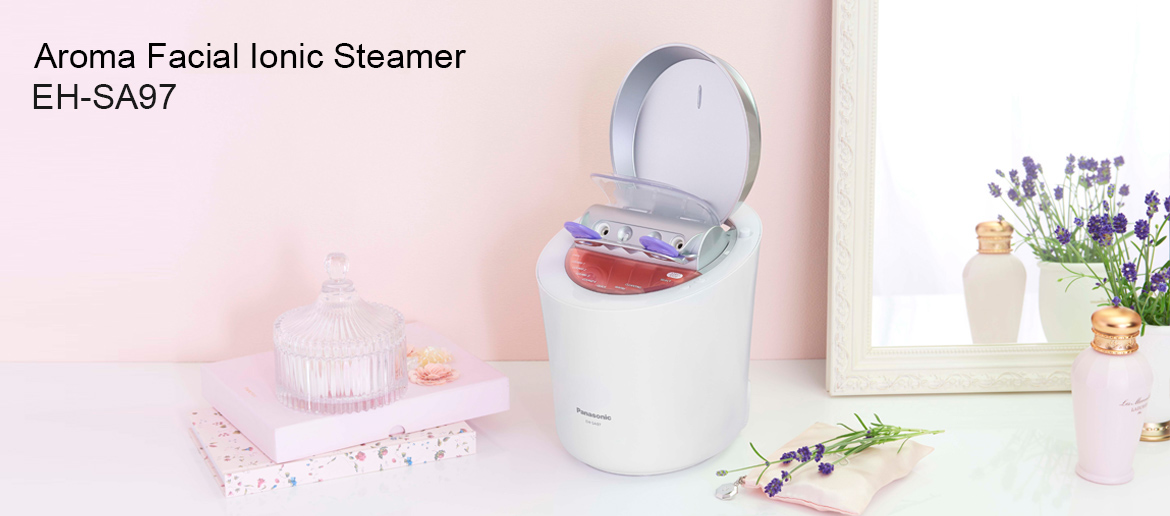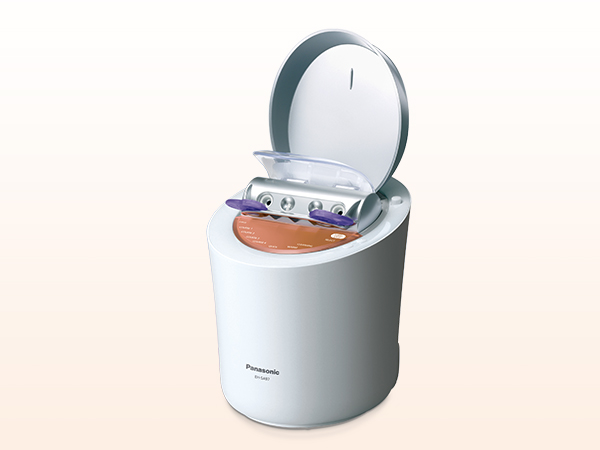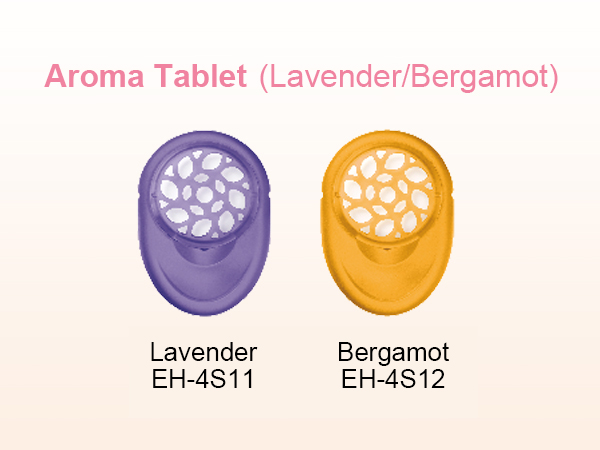 Product Features
Double outlets releasing alternating warm steam and cool mist to hydrate and tighten your skin
Nano-sized steam by nano technology to deeply hydrate your skin
Scented steam to relieve tiredness
7 default beauty courses
Compact and hygienic design with a protective lid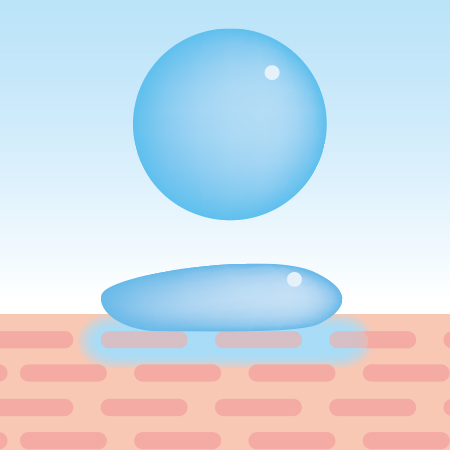 Typical water molecules are too sizeable to be absorbed into skin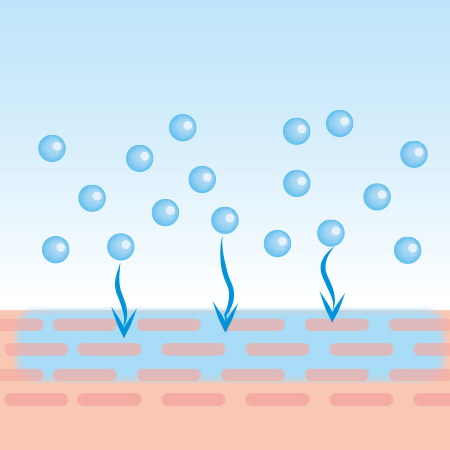 Nano-sized steam is finer than ordinary steam and thus easier to be absorbed into skin
40ºC nano-sized steam penetrates and deeply hydrates your skin to improve skin condition, leaving the skin moisturized and firm and preparing your complexion for makeup.
Moisturizing Your Skin in the Embrace of a Sweet Fragrance
Three Major Features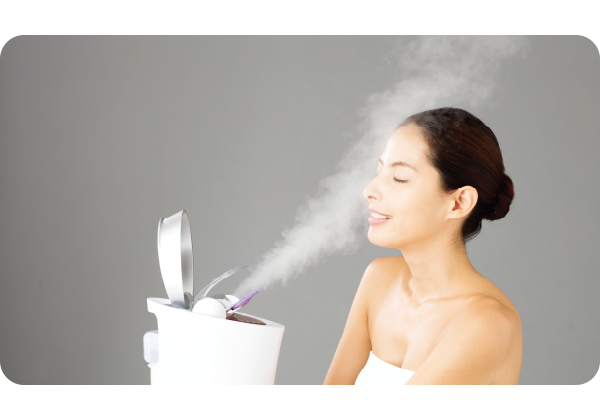 Nano-sized Ionic Steam
Water molecules are shrunk to nano-size by nano technology to penetrate into the deepest layer of stratum corneum, leaving the skin deeply hydrated.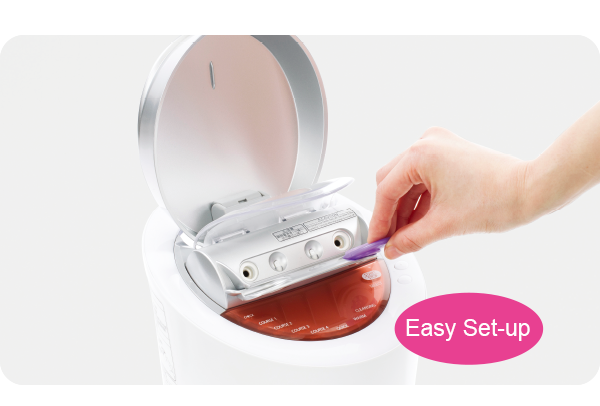 Aromatic Steam
Set the dedicated aroma tablets into the steamer to hydrate your skin and relieve tiredness with aromatic steam. No cleaning needed. Easy operation.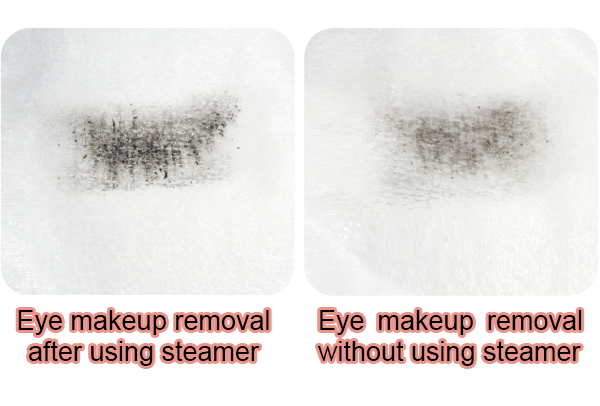 Thorough Makeup Removal
Warm nano-sized steam opens up pores and helps loosen any buildup of dirt and sebum for a deeper and easier makeup removal
Warm Steam / Cool Mist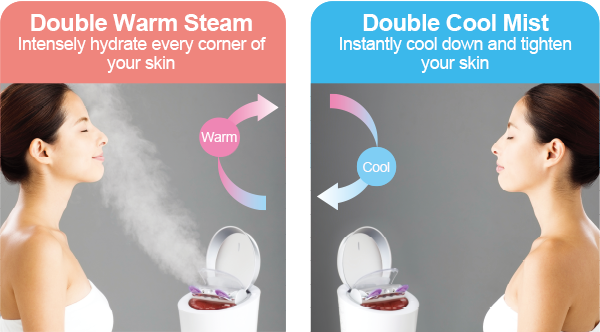 Basic Skin-care
Skin stimulation
Bright and glowing skin
Deep Cleansing
Balancing skin's water and oil level
Cleaning and minimizing pores
Intensive Hydration
Improving skin elasticity
Stratum corneum hydration
Skin Softening
Flawless and smooth makeup
Moisturized and plump complexion
How to use and Operation Time
5 Default Alternating Warm / Cool Beauty Courses
Course 1: Clear skin ~ 13 min 30 sec
For vibrant and glowing skin

Course 2: Skin fitness / Elasticity ~ 12 min
For elastic and moisturized skin

Course 3: Sebum care ~ 13 min
Reduces sebum, for poreless skin

Course 4: Soft skin ~ 11 min
For softer and moist skin

1
Warm steam: with a little cool mist to avoid sudden change of skin temperature
Course 5: Quick heating / cooling ~ 7 min (use before makeup)
For quick warm / cool treatment