Steam Pork Belly In Kwan On Style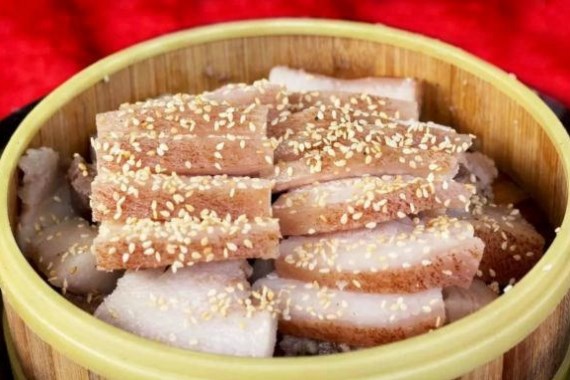 Ingredients
| | |
| --- | --- |
| Pork Belly | 1 pc |
| Black Sesame Seeds | 2 tbsp |
| Five-Spice Powder | 1 tsp |
| Pepper | some |
| Salt | 1 tbsp |
| Rice Cooking Wine | 2 tbsp |
| Sesame Oil | some |
Directions
Wash and drain the pork belly, marinate with rice cooking wine, pepper, salt, five-spice powder and black sesame seeds for 2 hours.

Put the pork belly into Panasonic Steam Oven NU-SC100W, select 'Steam-High', cook for 20 minutes.

Use meat tenderizer to poke holes on the pork skin to remove excess grease. Pour on ice water on the shin to make the pork belly become crisp.

Sprinkle with black sesame seeds, then put it into the steam oven, select 'Steam-High' for 10 minutes.

After the pork belly cooling down, cut into pieces and sprinkle with some sesame, serve in warm.