Baked Mussels and Linguine with Garlic and Cheese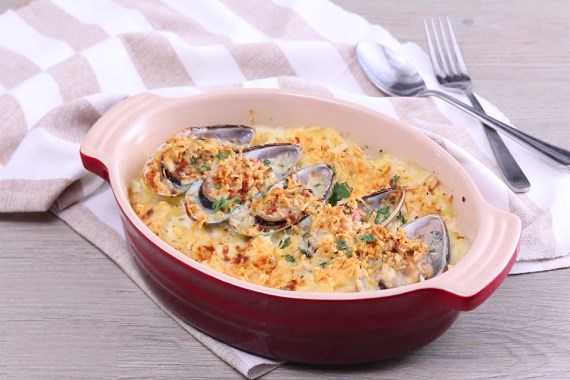 Ingredients
Garlic (mince)
3tbsp
Parsley (chop)
1tbsp
Salt
some
Black Pepper
some

Sauce Ingredients

Onion (dice)
1/4pc
Butter
30g
All-purpose flour
20g
Parmesan cheese
30g
Whipping Cream
250ml
Salt
some
Black pepper
some
Directions
Add hot water and linguine into the glass shelf, put it into the Panasonic My Chef Multi-Function Steam Oven NN-CS894B, select 'Steam 1' for 10 minutes. Steam until the linguine become soft, drain for spare.

Melt the butter with some oil, pan fry the onion, stir in the flour to make into a roux. Add the whipping cream and whisk until no lumps.

Stir in the linguine, salt, black pepper and parmesan cheese.

Put the linguine into a heat-resistant container, place the mussels on top then sprinkle with the garlic and cheese. Put into the Steam Oven, select 'Convection' 200ºC for 15 minutes or until the surface become golden brown.

Sprinkle with paprika and parsley then serve.
Tips
Can use other ingredients other than mussels.
Video