Christmas Dried Fruit Cake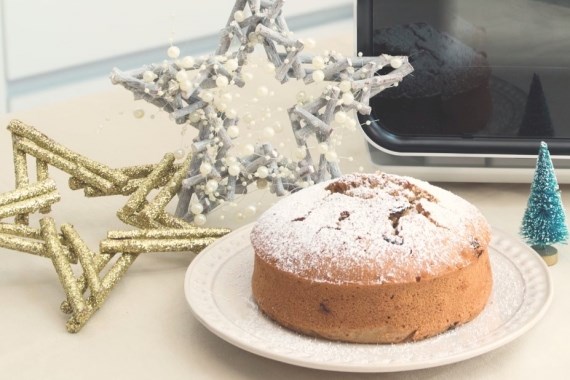 Ingredients
| | |
| --- | --- |
| Low-gluten flour | Sifted 200g |
| Cinnamon Powder | Sifited 1tsp |
| Baking Powder | Sifited 1tsp |
| Unsalted Butter | Room temperature 150g |
| Brown Sugar | 80g |
| Egg | 3pcs |
| Salt | 1/2tsp |
| Milk | 100ml |
| Vanilla Essential Oil | 1/2tsp |
| Sugar Orange Peel | 30g |
| Raisins | 30g |
Directions
Panasonic Steam Oven NU-SC100W, select 'Convection', preheat to 160℃.

Cut and place the cooking paper on the cake mold, brush a thin layer of butter on to the mold.

Mix the low- gluten flour, cinnamon powder and baking powder together, set aside.

Use Panasonic Hand Mixer MK-GH1, select 'Speed 1', mix the butter and brown sugar until it become a fluffy texture.

Add the egg wash slowly, mix it with 'Speed 1' until it completely mixed.

Mix flour mixture and salt with the hand whisk., and use 'Speed 1' to mix with the butter mixture.

Slowly add in the milk, vanilla essential oil, sugar orange peel and raisins and mix until it become smooth batter. Pour the batter into the cake mold, bake for 40 minutes.

Sprinkle with icing sugar and serve.
Video