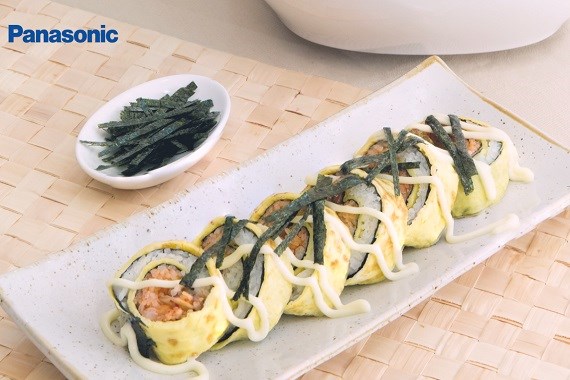 Ingredients
Raw Rice (wash)
2.5 cups
Beef (slices)
200 g
Eggs
4 pcs
Sushi seaweed
2 pcs
Kimchi
200 g

Marinade

Salt
1/4 tsp
Korean Soy Sauce
1/2 tsp
Sesame Oil
1 tsp
Corn Starch
1 tsp

Seasoning

Sesame Oil
1 tsp

Decoration

Salad Dressing
some
Flaked Seaweed
some
Directions
Pour in the raw rice into the Panasonic IH Warm Jar SR-AC071, add water until the water surface reaches scale '2.5' at waterline of 'White Rice', select 'White Rice' mode.
Marinade the beef with all marinade ingredients, stand for 15 minutes.
Pan fry the beef slices with Panasonic IH Cooker KY-E227D, select 'Heating Level 7' to heat up the oil first, and put in the beef slices.
Mix the eggs will sesame oil.
IH Cooker set to 'Heating Level 5', brush the fry pan with oil. Pour in the egg wash to make a crepe.
Make use of the sushi bamboo, place the crepe, a piece of sushi seaweed, rice, beef and kimchi, roll it up.
Chop it into 5-6 pieces, serve with salad dressing and flaked seaweed.