Caviar Scallop with Apple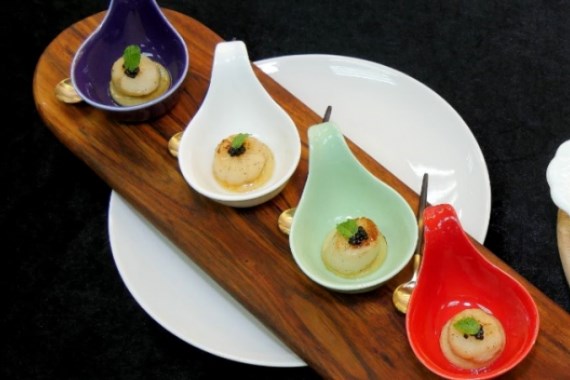 Ingredients
| | |
| --- | --- |
| Scallops | 5-6 pcs |
| Apple | 1 pc |
| Caviar | some |
| Vanilla Sauce | some |
| Pesto Sauce | some |
| Mint Leaves | some |
| Butter | some |
| Black Pepper | some |
| Salt | some |
| White Sugar | some |
| Oil | Some |
Directions
Peel and slices the apple, Panasonic Induction Cooker (15A) KY-E227D, select 'Heating level 5' fry the apple with butter for 1-2 minutes, sprinkle with sugar.

Put the apple slices in the Panasonic Steam Oven NU-SC100W, select 'Convection', preheat to 180 degrees and cook for 3-5 minutes.

Wash and pound the scallops, then marinating with salt and black pepper.

Put some oil, pan fry the scallop two sides for 20-30 second with 'Heating level 7'; add some butter and heat off.

Decora with apple, pesto sauce, scallop, caviar and mint leaves, serve.