Golden Three - Color Roll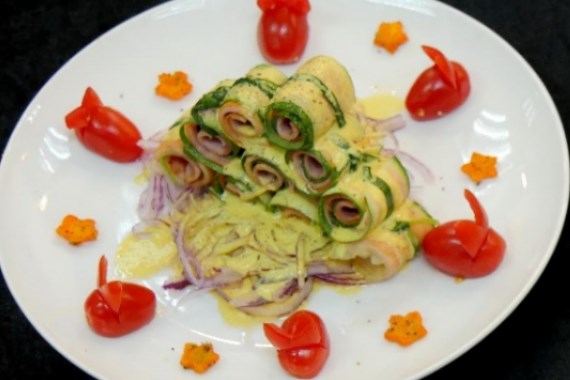 Ingredients
Cucumber
1 pc
Carrots
1 pc
Ham
4 pcs
Chives
some

Corn Sauce Ingredients

Corn
1 pc
Carrots
1 pc
Onion
0.5 pc
Light Cream
100 ml
Butter
some
Directions
Wash the cucumber and carrots, peel and slice evenly.

Slice the ham into five, use Panasonic Induction Cooker (15A) KY-E227D , select 'Heating Level 5' slowly fry then set aside.

Wash the chives, dry off and set aside.

Roll the cucumber, carrot and ham, use the chives to tie them up.

Put the roll into the Panasonic Steam Oven NU-SC100W, select 'Steam-Med' for 5 minutes.

Shred and chop the corn, onion and carrot.

Stir fry the chopped vegetables in the pan with butter by 'Heating Level 5'.

Put the fried vegetable into the Panasonic Blender MX-GX1561, add with light cream and blend until it become creamy.

Take out the roll sprinkle with the heated sauce and serve.