Stick Type Vacuum Cleaner
Suggested Retail Price HK$5,680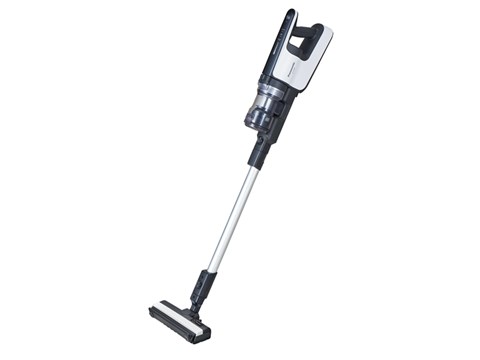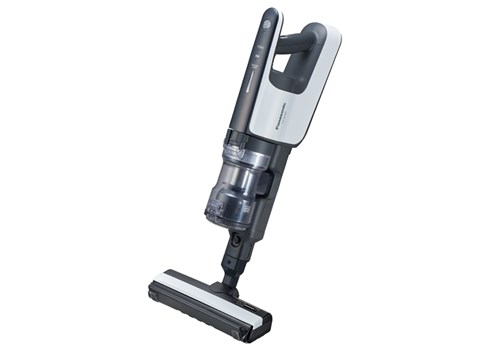 Highlights
Outstanding suction power 200W*
Twisting nozzle enables convenient usage
Full capture nozzle
House dust sensor which can detect tiny dust particles as small as 20 micrometers, such as dust mites
Made in Japan
Features
Outstanding suction power 200W*
Twisting nozzle enables convenient usage
Full capture nozzle
House dust sensor which can detect tiny dust particles as small as 20 micrometers, such as dust mite
2 in 1 brush head design for cleaning different floor types
Motor roller brush head enhances cleaning performance
Can be transformed to a handheld
Stainless steel guard which can separate dust and air effectively
Dust box capacity : 0.2L
Extra long operation time up to 65 minutes which continuous operations after fully charged (in long mode, motorized roller brush off)
Made in Japan
Accessories : mattress nozzle, crevice nozzle, dusting brush
Colour : White
Dimension: 252 (W) x 218 (D) x 1,170 (H) (stick)
Weight : 2.6 kg
* This is based on the voluntary standard of rechargeable vacuum cleaner by The Japan Electrical Manufacturer's Association. The suction performance varies depending on different nozzles, types of dust and flooring material.
Outstanding Suction Power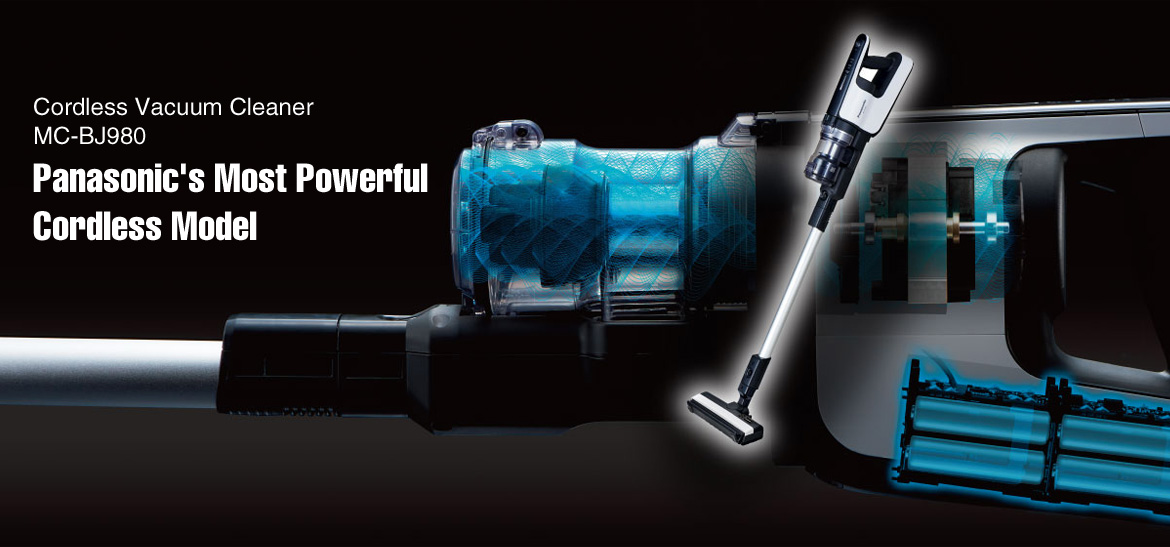 Features a newly developed high-power motor and the largest fan ever to provide exceptionally high suction power on a par with that of a canister model.
*1 With strong mode, running time is 6 minutes; Based on the voluntary standards conducted by the Japan Electrical Manufacturers' Association.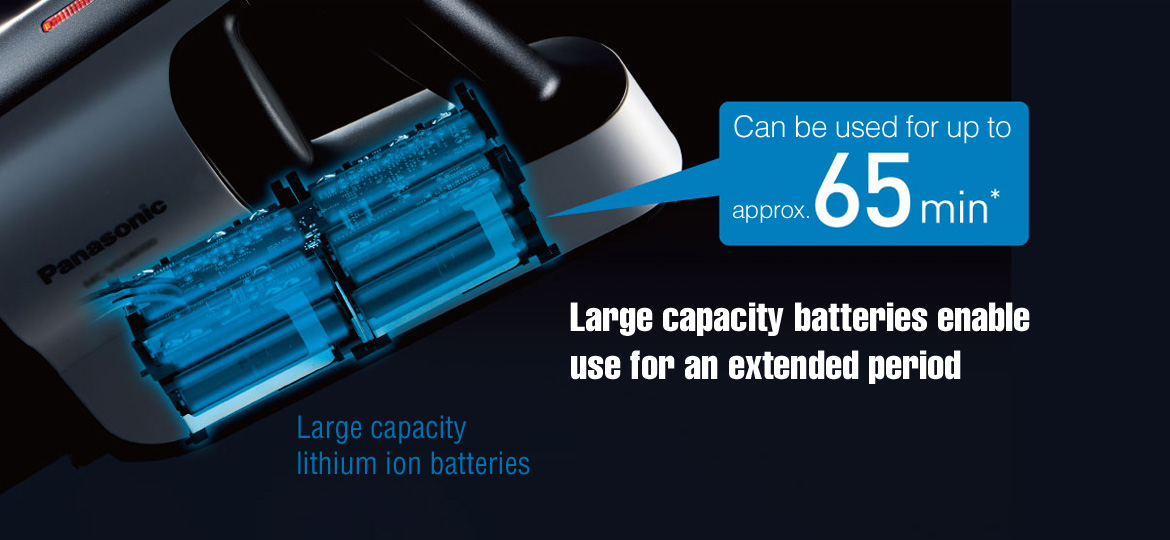 Use 8 large capacity lithium ion batteries. Long use (up to approx. 65 min*) enables cleaning without the worry of batteries going flat.
*2 65 mins: without motorized nozzle. 50 mins: with motorized nozzle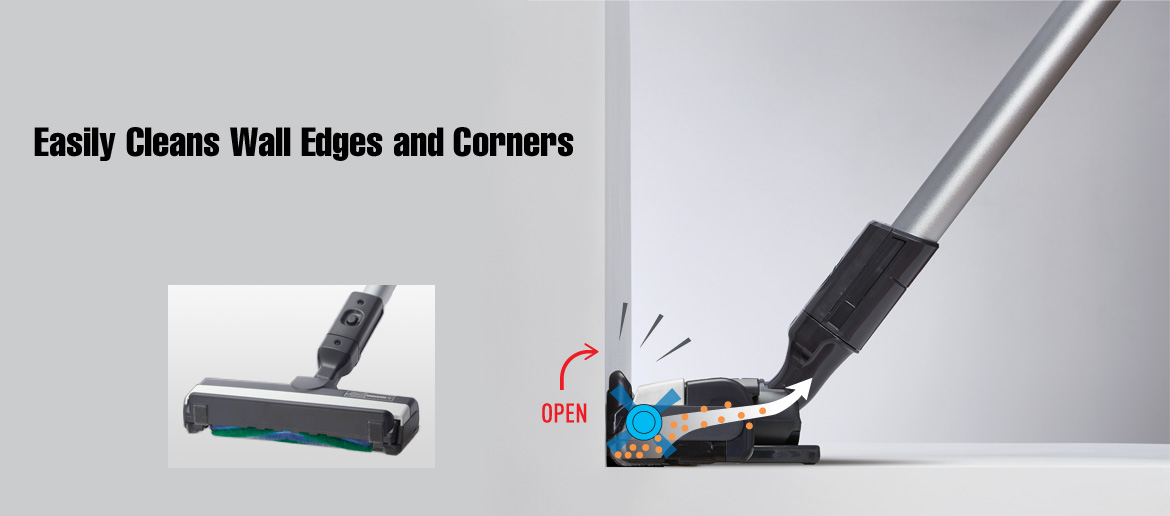 Full Capture Power Nozzle lets you reach wall edges and clean every corner.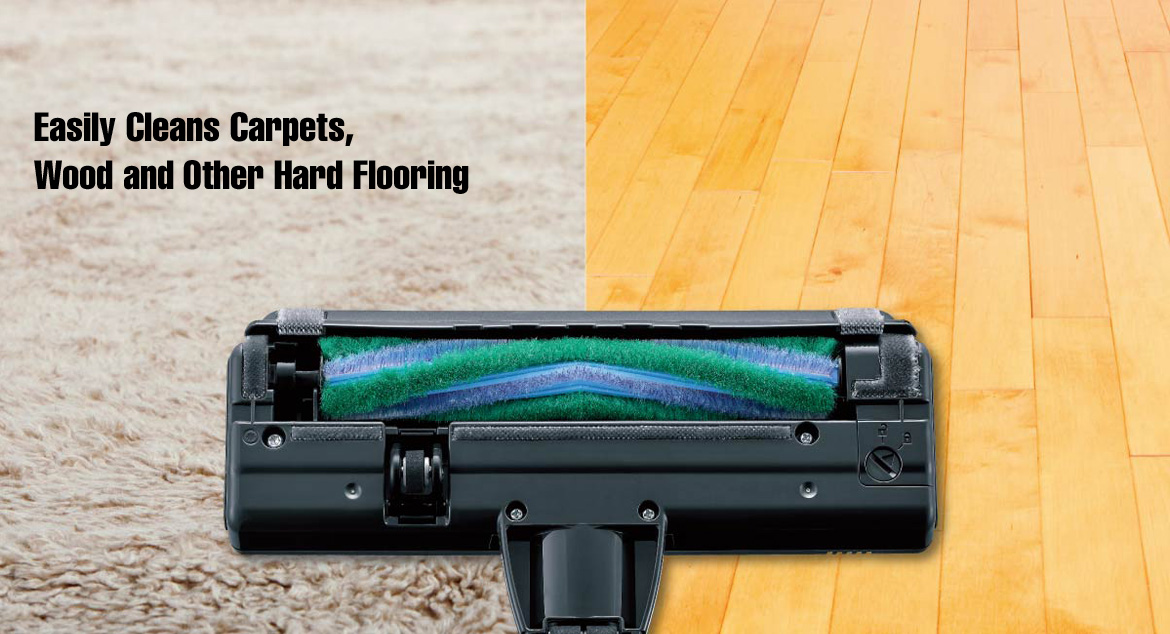 Panasonic's unique V-shaped brush efficiently collects dirt and dust and moves it to the central suction inlet. With two types of bristle ends, the brush is ready to clean different flooring materials, removing minute dust particles from wooden flooring, carpets and other surfaces.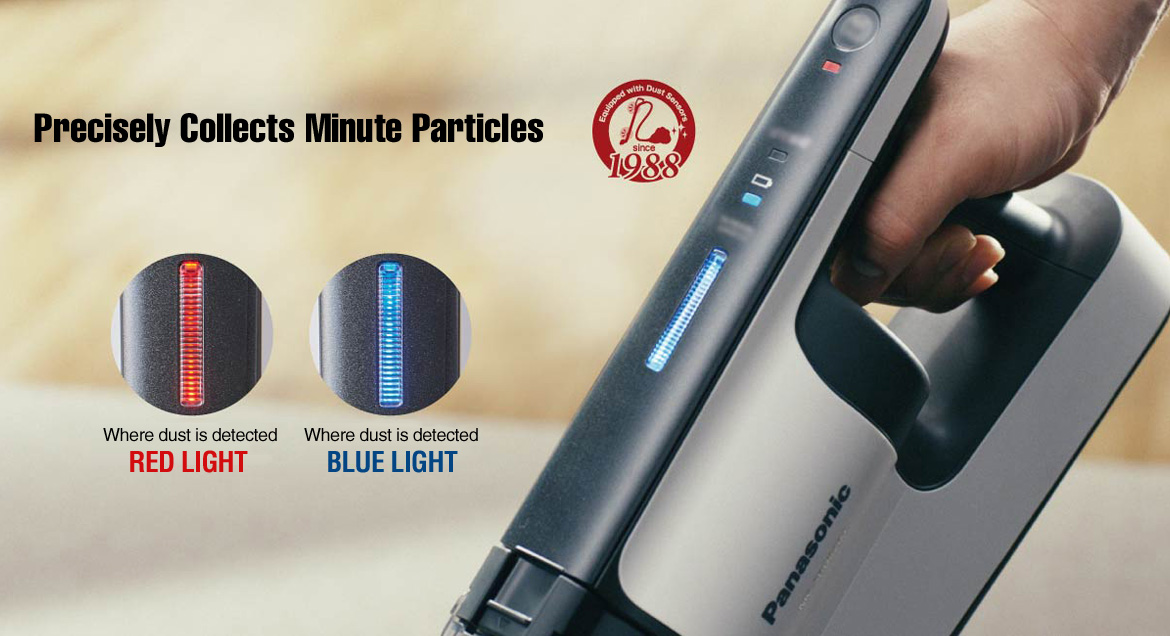 House Dust Sensor detects small particles as small as 20μm, such as dust mites. The indicator lights up when dust is detected! Even particles larger than 20μm, like the remains of dead dust mites, can also be detected.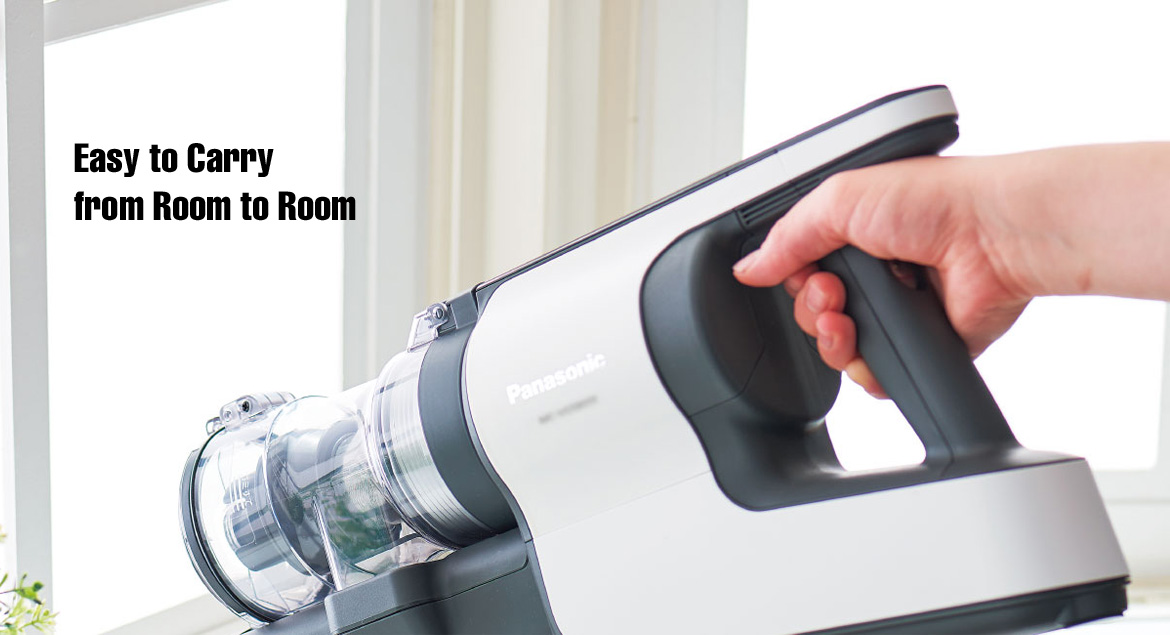 The handle and nozzle are ideally positioned in a straight line for optimum weight balance and easy maneuverability. And the uniquely shaped hand supporter makes it easy-to-hold and carry.

Dust Box Design
Enables easy, clean, one-touch disposal of dirt with minimal flying of dust.

Wash Whole
Washing the entire dust box with water makes cleaning easy.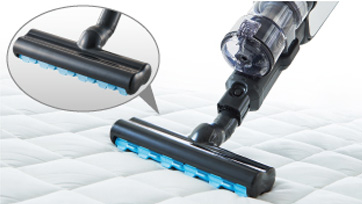 Mattress Nozzle
Removes dust from mattresses, cushions and sofas.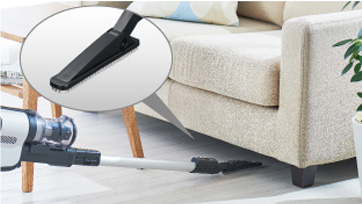 Dusting Brush
Reaches into narrow spaces and also effectively cleans dust on shelves.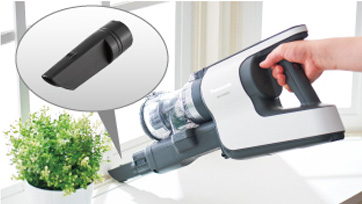 Crevice Nozzle
Cleans around corners and in narrow spaces.
Specifications



Stick Type Vacuum Cleaner

Living

Vacuum Cleaner

Power Supply

100-240V ~ 50-60 Hz

Input Power (MAX) W

-

Suction Power (MAX) W

200

Filtration

Dust Box

Power Control

3 levels power control

Extension Wand

O

Floor Nozzle

Full capture nozzle

Attachment

3

Pause Stand

-

Stand-by-Storage

-

Dust Capacity (L)

0.2

Cord Length (M)

-

Weight (with attachments) (kg)

2.6

Colour

White

Automatic Cord Rewind

-

Dust Bag

-