Stick Type Vacuum Cleaner
Suggested Retail Price HK$2,480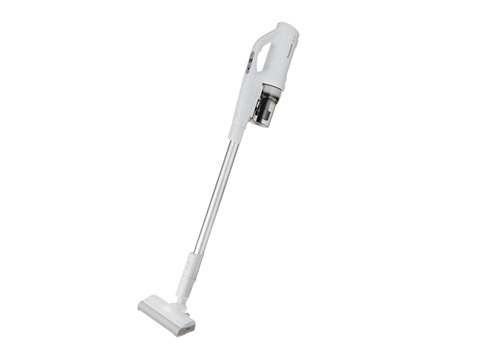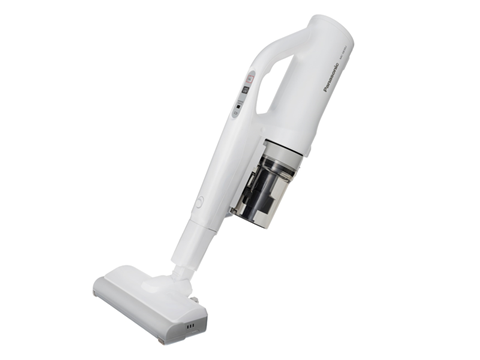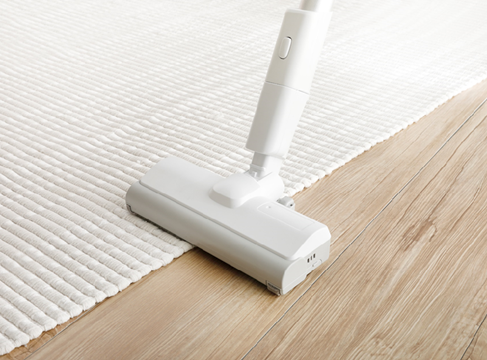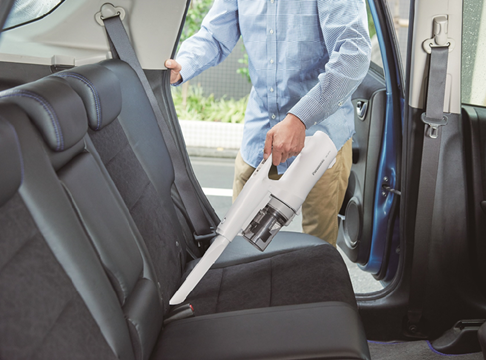 Highlights
100W suction power
Light weighted body with 1.6kg
House dust sensor which can detect tiny dust particles as small as 20 micrometer
Features
100W suction power
Light weighted body with 1.6 kg
House dust sensor which can detect tiny dust particles as small as 20 micrometer
New capture nozzle enables cleaning for wall edges and corners
2 in 1 brush head design for cleaning different floor types
V-shaped brush efficiently collects dirt and dust to central suction inlet, enhancing cleaning performance
Motor roller brush enhances cleaning performance
Ergonomic design for easy handling
0.3L dust box
Washable filters and dust box
Charging time : approximately 3.5 hours
Approximately 20-minute continuous operation at max (in auto mode) after fully charged
Accessories : Crevice nozzle
Colour : White
Dimension (D x W x H) (mm) : 93 x 387 x 182 (Body)
Weight : 1.1kg (body), 1.6kg (with extension wand and floor nozzle)
Country of origin : China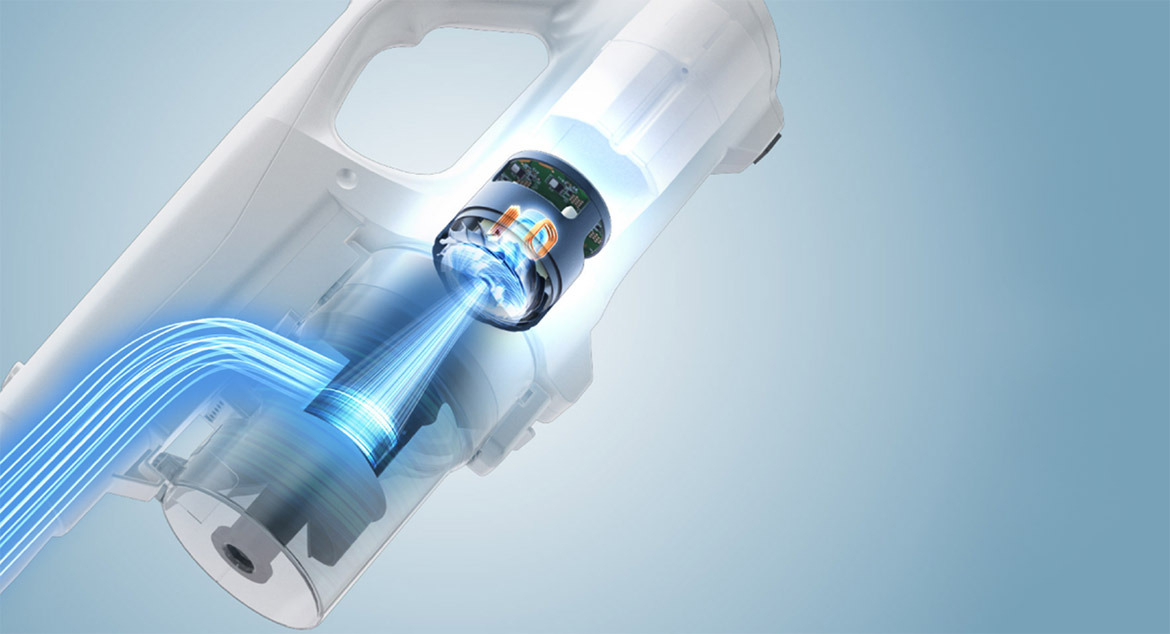 High-efficiency motor delivers
unprecedented suction power
Equipped with a high-efficiency compact motor and drive system that provide high power of 100W from a lightweight body. Enables easy but thorough cleaning. Features 5 lithium-ion batteries allowing use for a max. of 20 min.
*20℃ fully charged, initial capacity of battery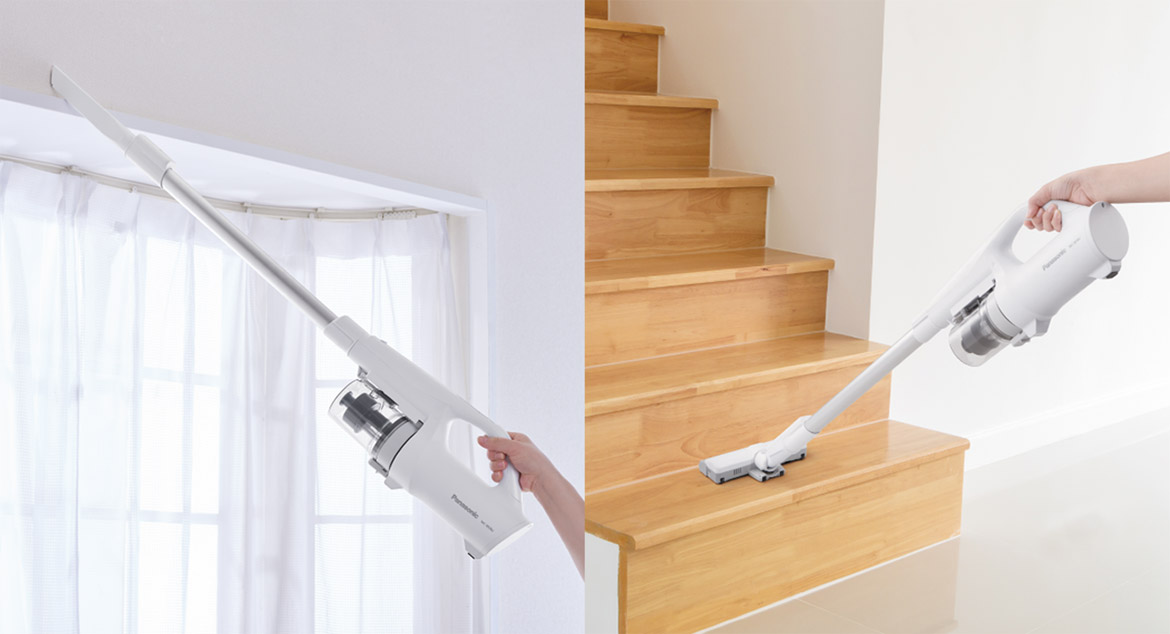 Ultralight 1.6 kg body for easier daily cleaning
A body weight of just 1.6kg lets you easily clean with one hand. This eliminates the strain of cleaning high places, stairs, narrow spaces and under furniture.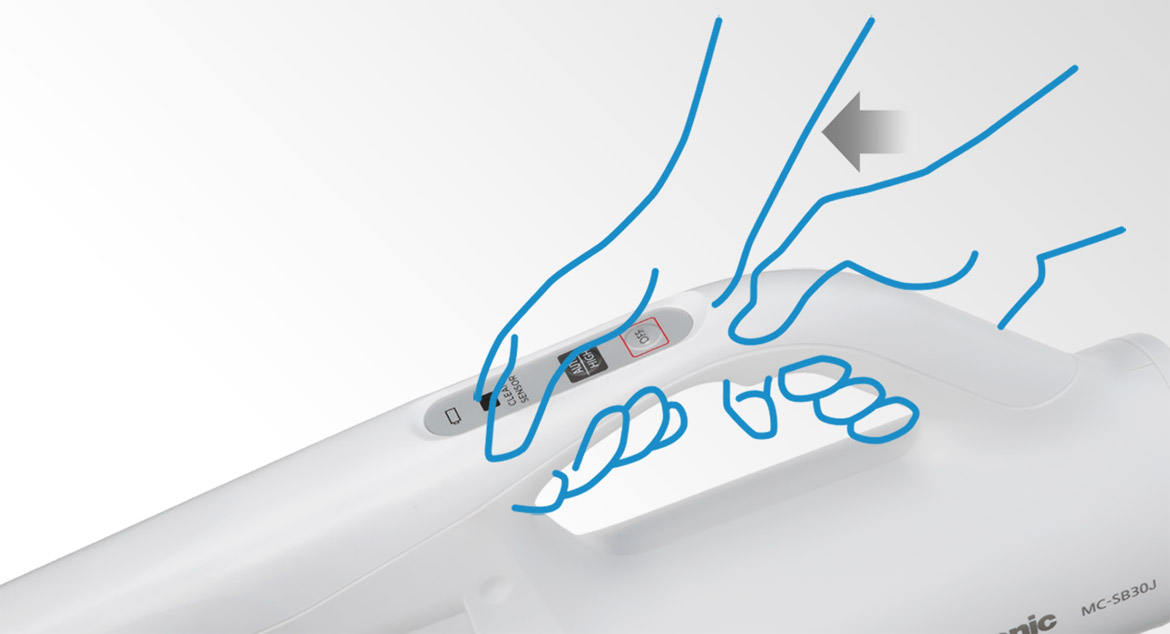 Ergonomic design for easy handling
The grip is shaped to fit your hand comfortably, so it is easy to hold and move with a light touch. You can change your grip position depending on how you want to use the cleaner.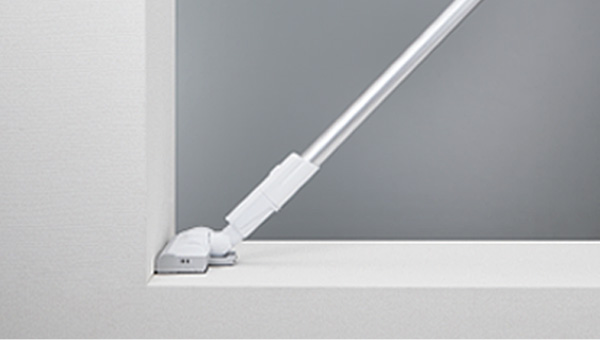 New power nozzle reaches into corners
The head reaches right up to walls to catch dust in every corner for thorough cleaning.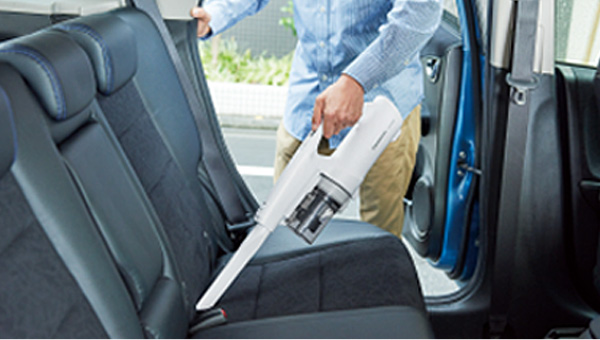 Crevice nozzle for narrow spaces
The included Crevice Nozzle lets you thoroughly clean narrow spaces such as between furniture.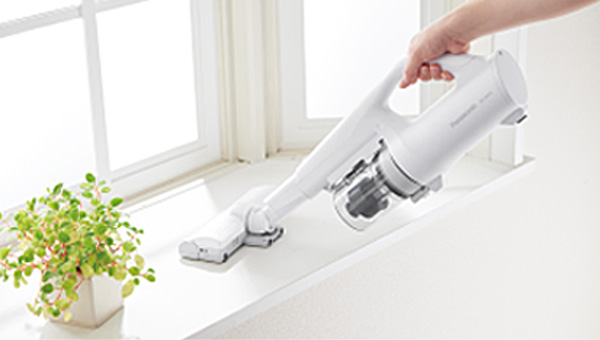 Handheld style for small areas
Removing the extension pipe makes it easy to clean small areas such as top of furniture.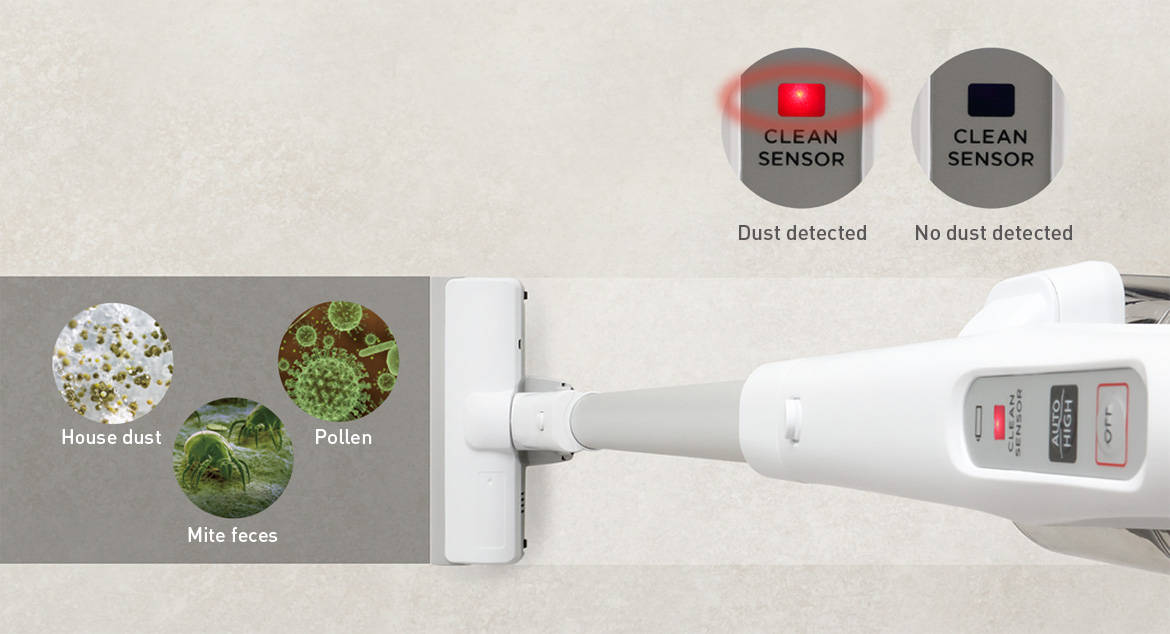 The house dust sensor also lets you know when fine dust is detected
When the house dust sensor detects particles as small as approximately 20 μm, the indicator lights to let you know.
As you continue cleaning, the indicator goes off when no dust is detected.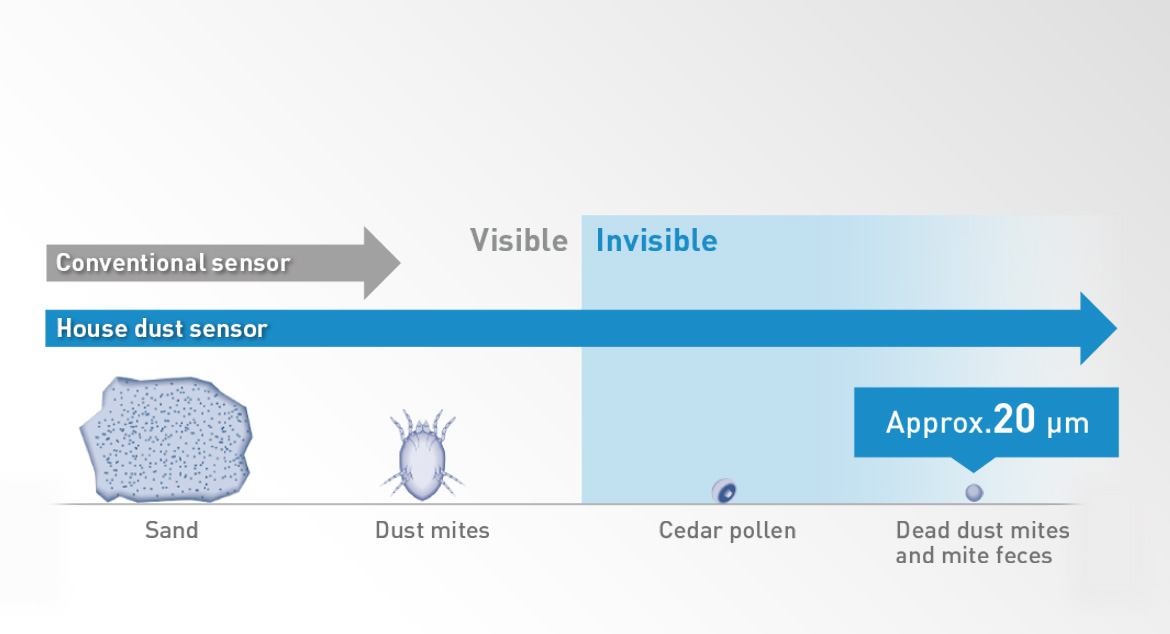 The sensor detects dust particles as small as 20 microns
House dust is made up of various substances such as lint, pollen, dust mites, dirt and dandruff from humans and animals. The majority of these are microscopic particles that cannot easily be seen with the naked eye. Mites feed on house dust such as dandruff, and their bodies and feces become allergens.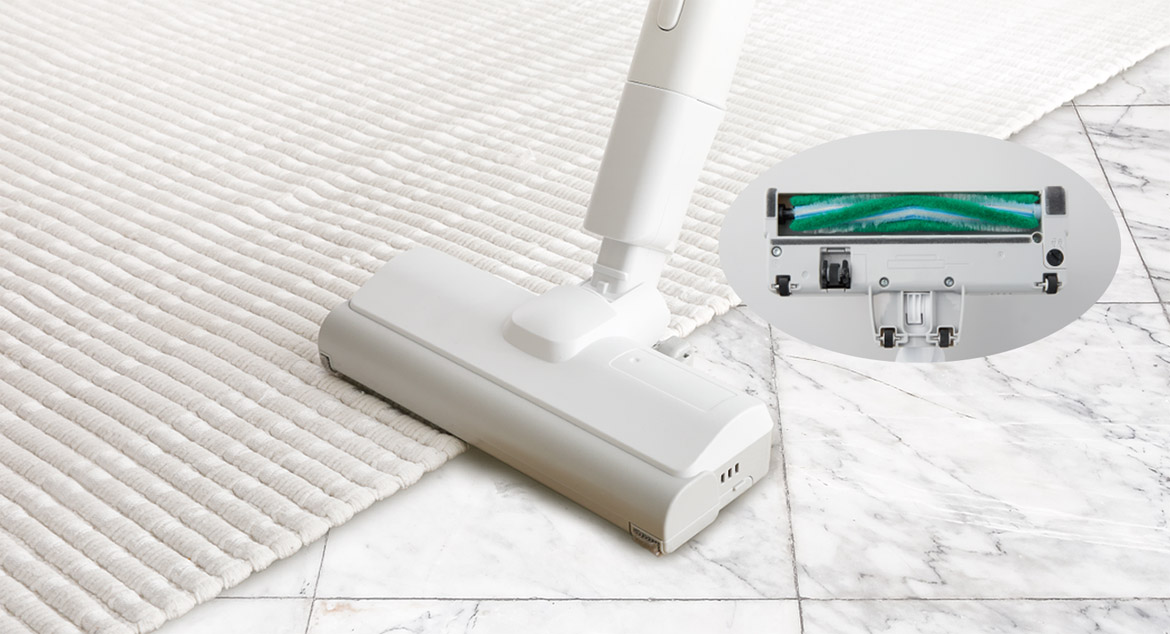 Thoroughly cleans floors and carpets
Panasonic's unique V-shaped brush efficiently collects dust and moves it to the central suction inlet. With two types of bristle ends, the brush is ready to remove minute dust particles from any type of floors, carpets and other surfaces.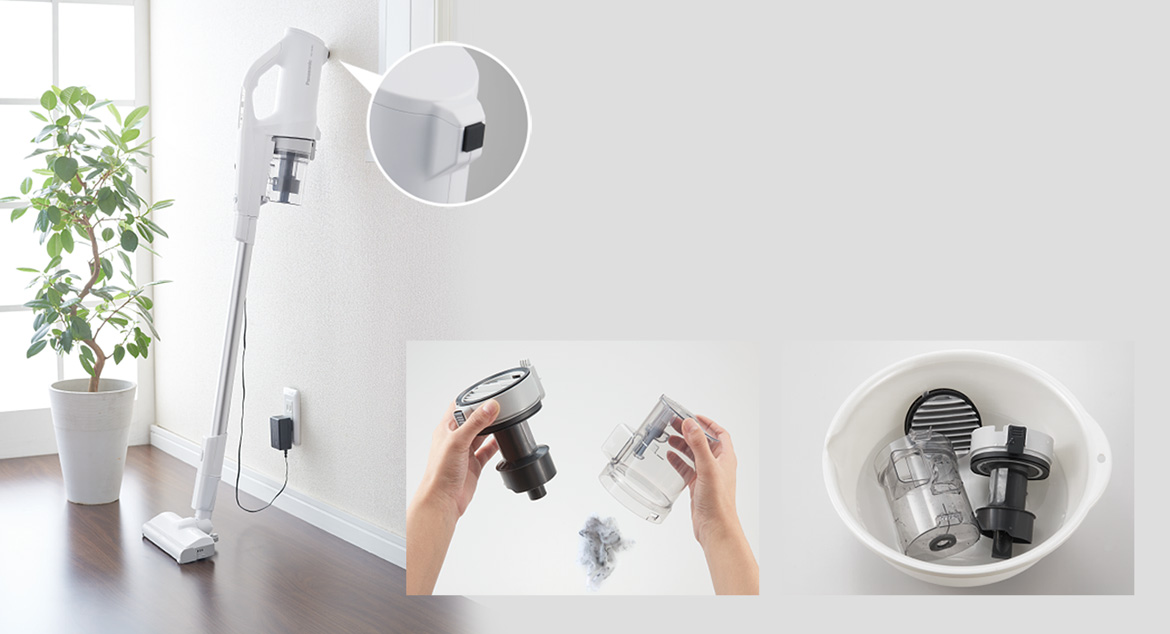 Always ready to use and easy maintenance
Rubber on the back of the body makes it easy to lean the vacuum cleaner against a wall. It takes up little space, and you can charge it standing up, so you can use it immediately whenever required.
Because emptying the vacuum is as easy as removing the dust box, and as the individual parts can be washed with water as is, maintenance is a cinch.
Specifications



Stick Type Vacuum Cleaner

Living

Vacuum Cleaner

Power Supply

220V ~ 50 Hz

Input Power (MAX) W

AC220V 50Hz

Suction Power (MAX) W

-

Filtration

Dust Box

Power Control

2 levels power control

Extension Wand

O

Floor Nozzle

O

Attachment

1

Pause Stand

-

Stand-by-Storage

-

Dust Capacity (L)

0.3

Cord Length (M)

-

Weight (with attachments) (kg)

1.6

Colour

White

Automatic Cord Rewind

-

Dust Bag

-

Charging Timer

Around 3.5 hours (when the battery is completely discharged, and starts charging with 20℃ ambient temperature)

Battery Life

Rechargeable lithium-ion battery