1 to 3 "Inverter" ECONAVI Split Type Air-Conditioner (Indoor Unit) (1 HP x 3)
Suggested Retail Price HK$20,800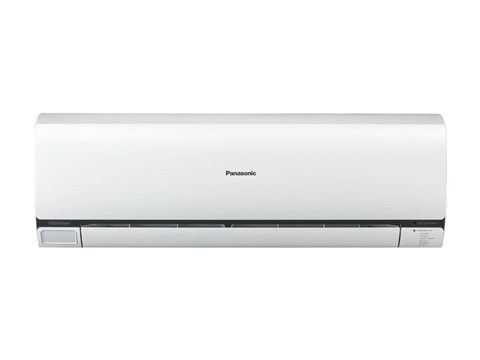 Highlights
1 to 3 Multi-Split Type (1 HP x 3 Cooling Model - With Remote Control)
9,550 Btu/h = 1-Unit
19,100 Btu/h = 2-Unit
25,600 Btu/h = 3-Unit
R410A Refrigerant
Features
1 to 3 Multi-Split Type (1 HP x 3 Cooling Model - With Remote Control)
9,550 Btu/h = 1-Unit
19,100 Btu/h = 2-Unit
25,600 Btu/h = 3-Unit
Cooling Capacity (COP) : 2.80(1-Unit), 5.60(2-Unit), 7.50(3-Unit)
nanoe-G Air Purifying System inactivates 99% airborne and adhesive micro-organisms such as bacteria, viruses and mould
Independent Operation of nanoe-G Air Purifying Function
ECONAVI helps you save energy efficiently with uninterrupted cooling and comfort. It features Human Activity Sensor and Sunlight Sensor that can detect and reduce waste by optimising air conditioner operation according to room conditions
Environmental Friendly R410A Refrigerant
"Inverter" adjusts output power finely to maintain a constant temperature and save energy
Anti-Corrosive Blue Fin Condenser
Powerful Mode
Quiet Mode
24-Hour Dual On/Off Setting Timer
Dimension(H x W x D):290 x 870 x 214mm



CU-3S27MKZ (Outdoor Unit)

Dimension(H x W x D):695 x 875+95 x 320mm
*W970mm with the width of piping included
Outdoor power supply




The above dimensions are the size of the main body. The connecting and protruding part of pipes are not included. For details, please visit "Support" to download further information.
Specifications



1 to 3 "Inverter" ECONAVI Split Type Air-Conditioner (Indoor Unit) (1 HP x 3)

Living

Air-Conditioner

Outdoor

CU-3S27MKZ

Remote Control

●

Cooling Capacity

Btu/h

1-unit:Indoor Unit:9,550,Outdoor Unit:5,800-11,600;2-unit:Indoor Unit:19,100,Outdoor Unit:5,800-21,800;3-unit:Indoor Unit:25,600,Outdoor Unit:8,180-25,900

kW

1-unit:Indoor Unit:2.80,Outdoor Unit:1.70-3.40;2-unit:Indoor Unit:5.60,Outdoor Unit:1.70-6.40;3-unit:Indoor Unit:7.50,Outdoor Unit:2.40-7.60

EER

W/W

1-unit:4.00;2-unit:3.20;3-unit:2.74

Power Supply

Voltage V

220

Power Consumption A

1-unit:3.8;2-unit:8.7;3-unit:13.5

Input Power kW

1-unit:0.70;2-unit:1.75;3-unit:2.74

Moisture Removal

L/h

1-unit:1.6;2-unit:1.6+1.6;3-unit:1.5+1.5+1.5

Pt/h

1-unit:3.4;2-unit:3.4+3.4;3-unit:3.2+3.2+3.2

Air Circulation(Indoor / Hi)

m³/min.

9.6 (Hi Mode)

ft³/min.

340 (Hi Mode)

Indoor Unit Dimension(H x W x D)

mm

290 x 870 x 214

inch

11 7/16" x 34 9/32" x 8 7/16"

Outdoor Unit Dimension(H x W x D)

mm

695 x 875+95 x 320

inch

27 3/8" x 34 15/32"+3 3/4" x 12 5/8"

Net Weight

Indoor Unit

9 kg,20 lb

Outdoor

57 kg,126 lb

Piping Diameter

Liquid mm / inch

ψ6.35/ 1/4"

Gas mm / inch

ψ9.52/ 3/8"

Power Supply

Outdoor