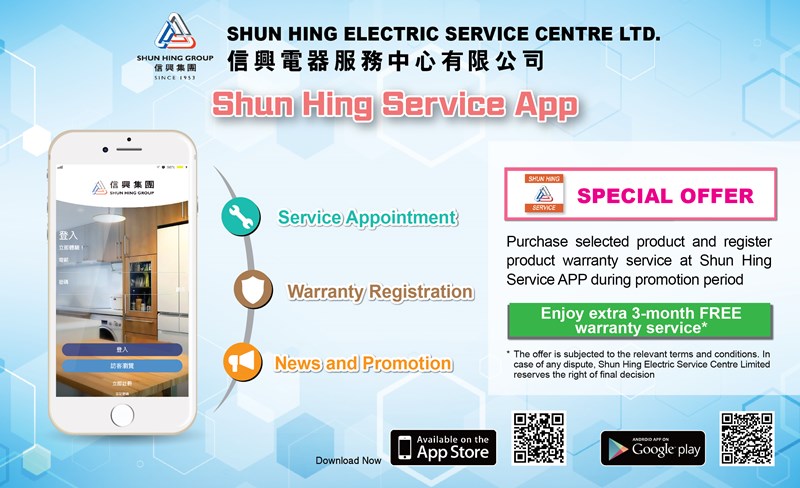 Newly Launched Shun Hing Service App -- An Interactive Service Platform for Customers
Shun Hing Electric Service Center Limited has launched a new mobile app to fit the needs of various users by offering different kinds of service. With this new service platform, users can register warranty, make service appointments from Shun Hing agents' products, view e-manuals and cooking recipes, as well as manage the asset list and receive the latest news and promotions.
New service app provides convenient and effective service for daily life
The newly launched "Shun Hing Service" mobile app provides an effective and convenient service platform for busy Hong Kong customers. It enables users to register warranty for their Shun Hing agents' products and make different service appointments through mobile app. A "Friendly Reminder" feature is added in to the app to remind users the expiry date of the guarantee period of their Shun Hing agents' products.
Access to all home appliance information with Shun Hing Service App in hand
E-manuals of Shun Hing products are uploaded to let customers to view the instructions of the products anytime, anywhere. The feature "Cooking Recipes" enables users access delicious recipes from around the world.
Unique promotion for mobile app users
From now till 31st January, 2019, customers who purchase selected products and successfully register product warranty service at Shun Hing Service APP on or before 28th February, 2019, can enjoy an extra three-month warranty service for free. Mobile app users can also view the unique and special offers from "News and Promotions" which will be updated regularly.
Download Now
iOS: Download Here
Android: Download Here
Shun Hing Service App Video