2 in 1 Air Purifying Dehumidifier (25L)
Suggested Retail Price HK$5,980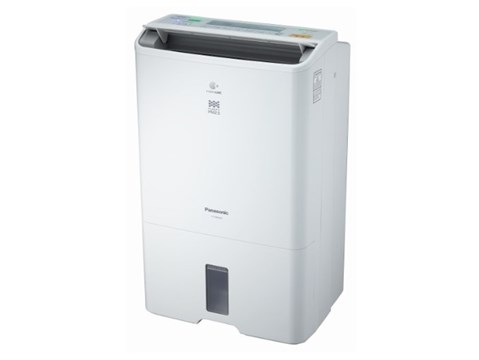 Highlights
Dehumidifying Capacity:25 Litres/Day
*Manufacturer's Standard (Temperature 30℃, Humidity 80%):25 Litres/Day
*Energy Efficiency Label's Standard (Temperature 26.7℃, Humidity 60%):14.7 Litres/Day
HEPA composite filter can remove fine particles PM2.5 and inhibit viruses, bacteria and 17 kinds of allergens
Super active carbon deodorizing filter removes odor such as smokes from cigarettes and 99% formaldehyde**
nanoe® technology efficiently inhibits up to 99% of viruses and bacteria, and penetrates deep into fabrics to remove odor
Features
2 in 1 air-purifying dehumidifier, effectively inhibits the growth of bacteria and removes odor while dehumidifying the air
Dehumidifying Capacity:25 Litres/day (Manufacturer's standard: temperature 30°C, humidity 80% ) 14.7 L/day (Energy Efficiency Label's standard: temperature 26.7°C, humidity 60%)
nanoe® technology efficiently inhibits up to 99.99%* of viruses and bacteria, and penetrates deep into fabrics to remove odor
HEPA composite filter can remove fine particles PM2.5 and inhibit viruses, bacteria and 17 kinds of allergens
Super active carbon deodorizing filter removes odor such as smokes from cigarettes and 99% formaldehyde**
ECONAVI customizes the operation mode to fit your lifestyle, saving energy
15 safety-assurance devices, designed with fire-resistant materials and automatic circuit-breaker
5 dehumidifying modes: auto / mild / cont. / laundry / fan (air purifying only)
40%-70% humidity setting
3 level of air volume setting
PM2.5 index indicator
Smell detection indicator
Intelligent dryness monitoring system
Easy-roll casters
Full-Tank Indicator
Auto-stop function
Auto-defrost Indicator
Alert Indicator
Child lock function
Touch panel
Timer : 1-12 hours
Grade 1 Energy Efficiency Label
Applicable area:33m² (approx. 355ft²)
Water tank capacity: 5.2L
Colour:White
Dimension(H x W x D):614 x 370 x 298mm
HEPA Composite Filter : FZPJX32E
Suggested HEPA Composite Filter Life Time : 3 (years)
Cleaning Method : Vacuum Cleaner
Deodorizing Filter : FZPKX32E
Suggested Deodorizing Filter Life Time : 5 (years)
Cleaning Method : Replace
Made in Taiwan
Safety Tips for Dehumidifiers : https://www.emsd.gov.hk/filemanager/tc/content_442/Poster-7-Humidifiers-v01.pdf
It is recommended that filters and power plugs are to be cleaned regularly. If dust accumulates on the power plug, humidity may cause damage to insulation and may result in fire or electric shock.
*For testing details, please refer to: http://www.plshk.panasonic.hk/upload_files/nanoe_evidence.pdf
** Performance of removing formaldehyde varies depending on the storage time, usage time, usage conditions and dimensions etc. of filters. Performance declines with time. Test laboratory: SGS Taiwan Ltd.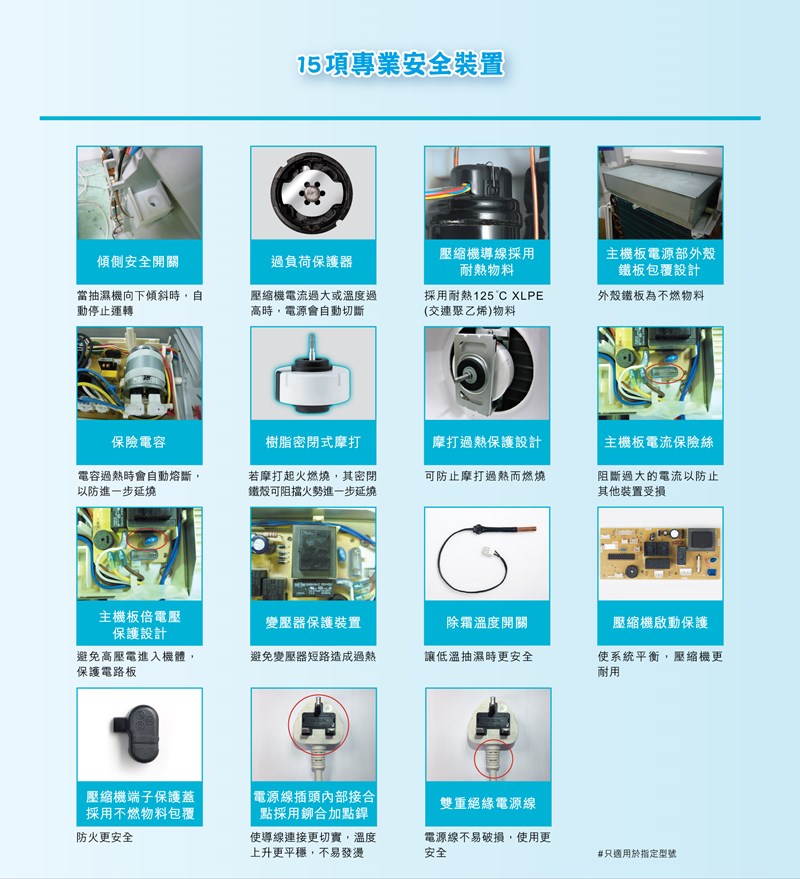 Specifications



2 in 1 Air Purifying Dehumidifier (25L)

Living

Dehumidifier

Dehumidifying Capacity (L/Day)

*Manufacturer's Standard (Temperature 30℃, Humidity 80%):25 Litres/Day, *Energy Efficiency Label's Standard (Temperature 26.7℃, Humidity 60%):14.7 Litres/Day

Full Capacity of Tank (L)

5.2L

Frequency (Hz)

50Hz

Voltage (V)

220V

Power Consumption (W)[Dehumidifying Mode]

295W

Dimension(H x W x D)

614 x 370 x 298mm

Net Weight (kg)

17kg

Type

Compressor