Double Sonic Vibration Electric Toothbrush
Suggested Retail Price HK$1,998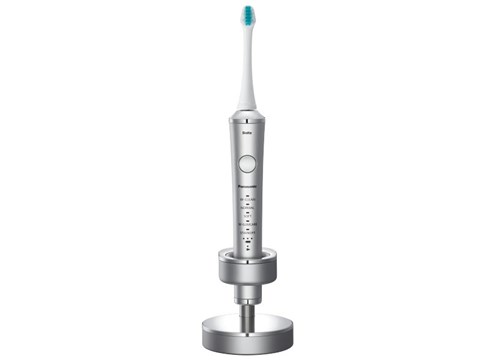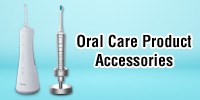 Highlights
Double linear sonic vibration include both horizontal and vertical movement which are approximately up to 31,000 strokes/min and 12,000 strokes/min respectively. It helps to remove plaque effectively
Extra-fine 3mm long-and-short bristles with only 0.02mm diameter can reach to the bottom of periodontal pocket for better dental stain removal, together with gum line brushing technology
5 brushing modes with 5 different Toothbrush Head
Features
Double linear sonic vibration include both horizontal and vertical movement which are approximately up to 31,000 strokes/min and 12,000 strokes/min respectively. It helps to remove plaque effectively
Extra-fine 3mm long-and-short bristles with only 0.02mm diameter can reach to the bottom of periodontal pocket for better dental stain removal, together with gum line brushing technology
5 brushing modes with 5 different Toothbrush Head
30-second and 2-minute brushing duration notification timer
Overpressure prevention
1-hour full charge (for approx. 45-90 minutes use) and 2-minute quick charge (for approx. 2-min use)
Washable main unit
Charging stand, carrying case and two sets of brush stands included
Hanging induction charging system to avoid dirt accumulation
RC 100-240V (Universal voltage)
Made in Japan
Colour: Silver
Toothbrush head: Extra-fine long-and-short brush (WEW0914) / Multi-fit brush (WEW0915) / Stain Care Brush (WEW0938) / Gum Care Brush (WEW0932) / Awl-shaped brush (EW0940)
Panasonic Double Sonic Vibration Electric Toothbrush EW-DP52 Promotional Video
Double Linear Sonic Vibration
New Double Linear Sonic Vibration driven by dual motors to achieve conventional horizontal vibrations plus newly added tapping vibrations. Periodontal pockets between teeth will be cleaned effectively while minimizing the burden on teeth and gums. Periodontal disease is thus prevented.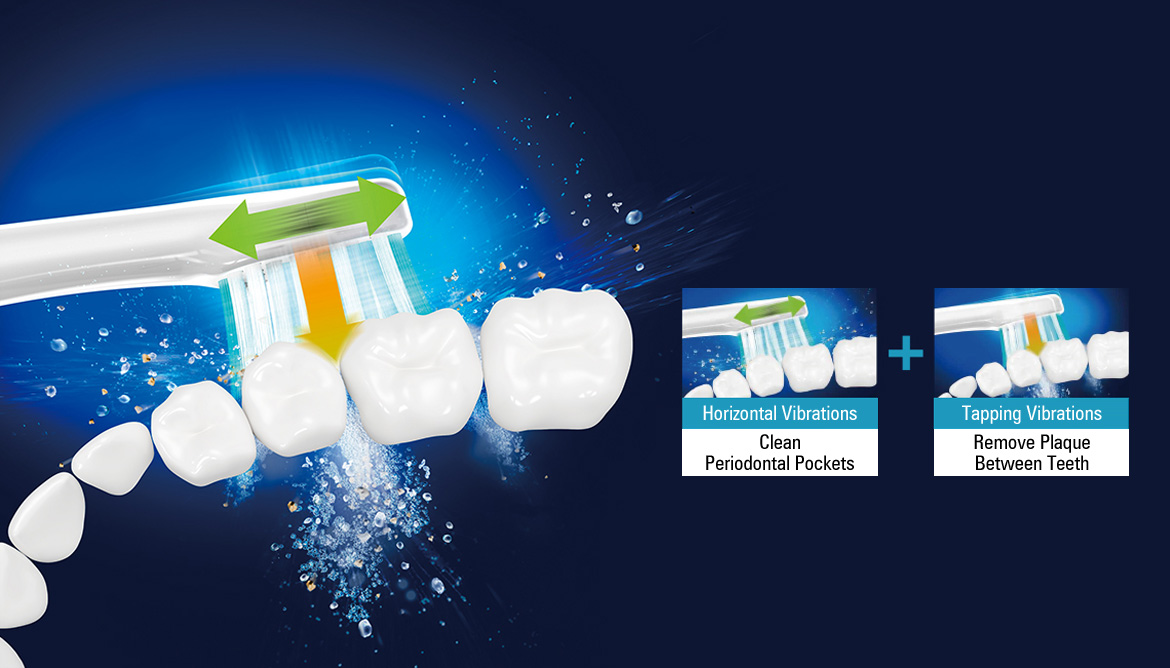 Horizontal Vibrations
Clean Periodontal Pockets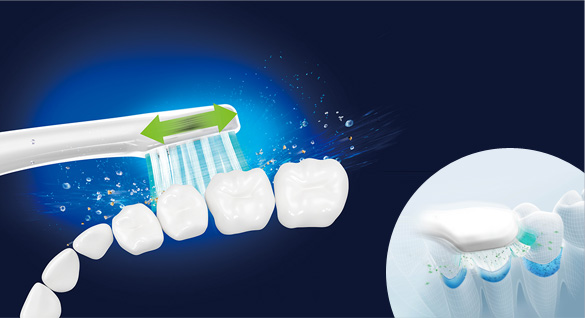 Horizontal vibration allows the brush to move along the gum line (approx. 31,000 brush strokes/min) for effective stain removal in periodontal pocket.
Tapping Vibrations
Remove Plaque Between Teeth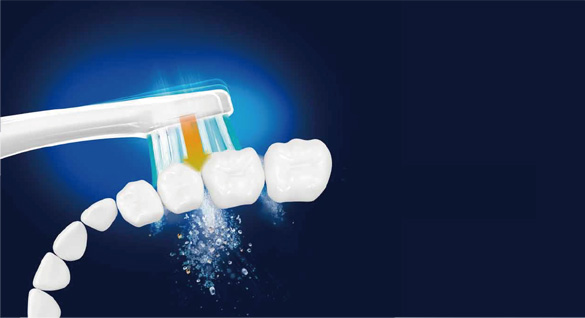 Additional tapping vibrations (approx. 12,000 brush strokes/min) powerfully remove plaque between teeth.
5 Cleaning Models to Fulfil Different Dental Caring Needs
(1) W-CLEAN <Professional>
Double sonic vibrations generated by dual motor provides comprehensive brushing of all surface area of teeth.
(2) NORMAL <Daily>
Brush moves along the gum line to scrap out of plaque in periodontal pockets.
(3) SOFT <First Time Use / Gentle>
When first time user and user who prefers gentle brushing.
(4) W-GUMCARE <Gum Care>
Double sonic vibrations with an amplitude to massage gums comfortably and softly.
(5) STAINOFF <Whitening>
Remove stains on teeth surface. Achieving better results upon using Stain Care Brush.
Five Kinds of Brushes for Optimum Oral Care
Different cleaning modes in combination with the dedicated brush. Each kind of brush is specially designed for a respective purpose to maximize the effectiveness of cleansing.
1. Extra-fine Brush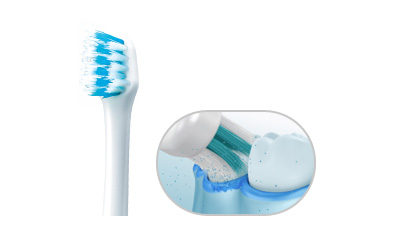 Extra-fine 3mm long-and-short bristles with only 0.02mm diameter can reach the bottom of periodontal pocket and remove dental stain.
2. Multi-fit Brush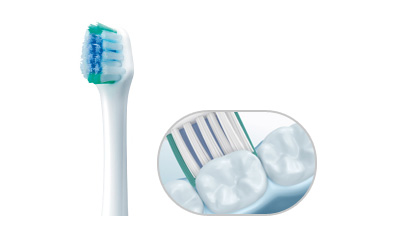 Thoroughly clean the cutting surface and ridges of molar teeth.
3. Stain Care Brush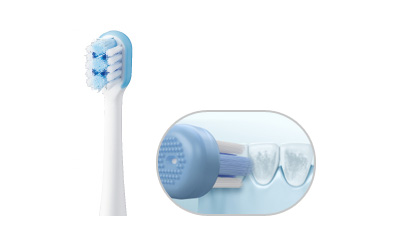 Bristles with a diamond-shaped cross section to remove stain resulting from food and drinks.
4. Awl-shaped Brush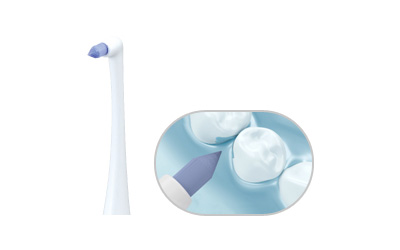 Awl-shaped design for reaching the surface between teeth.
5. Gum Care Brush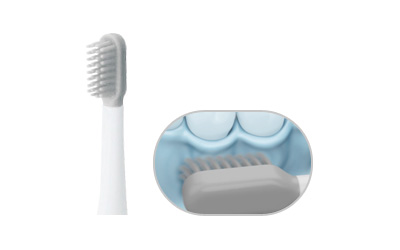 Massage the gums comfortably to stimulate blood circulation and keep gums healthy.
Simple Design & Fast Charging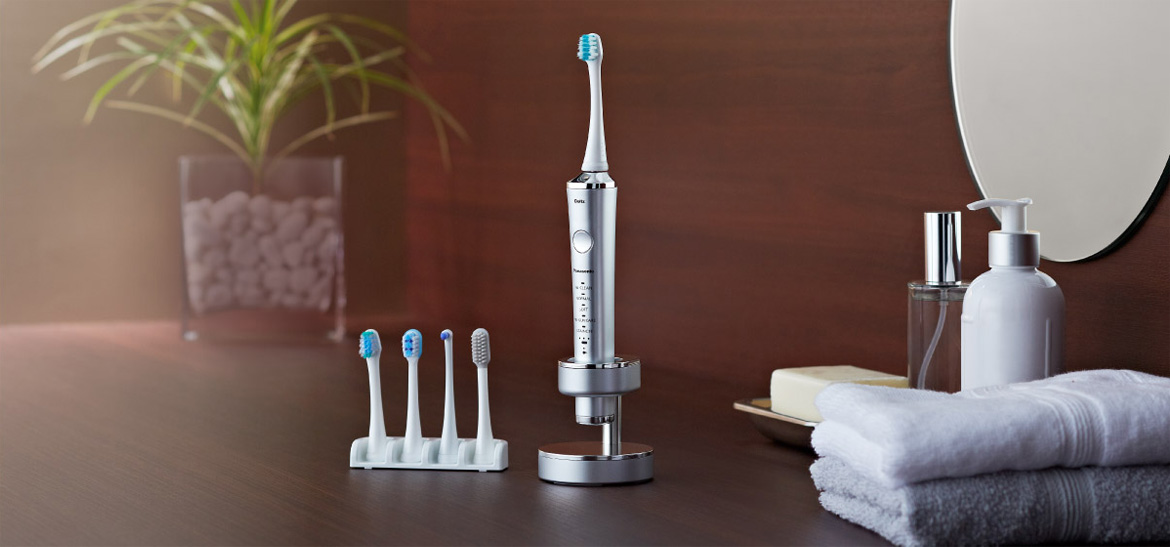 Hanging induction charging system for quick charging and easy daily cleaning as dirt accumulation at the stand is avoided.
Specifications



Double Sonic Vibration Electric Toothbrush

Health Care

Oral Care Product

Electric Toothbrush

Sonic Vibration Frequency

Horizontal Vibration Frequency: Approx. 31,000 strokes/minutes; Vertical Vibration Frequency: Approx. 12,000 strokes/minutes

Power Supply

Rechargeable (RC)

Voltage

100-240V

Charging Time

Approx. 1 hour

Operating Time

Approx. 45-90 minutes of continuous use after battery fully charged

No. of Cleaning Mode(s)

5 types ( W-Clean , Regular , Soft , W-Gum Care & Stain Off modes )

Main unit Dimension

Approx. 235(H) x 29(W) x 35(D) mm

Charger Dimension (H x W x D)

Approx. 73(H) x 71(W) x 71(D) mm

Toothbrush Head

Extra-fine long-and-short brush (WEW0914) / Multi-fit brush (WEW0915) / Stain Care Brush (WEW0938) / Gum Care Brush (WEW0932) / Awl-shaped brush (EW0940)

Accessories

Charging stand, carrying case and two sets of Brush Stands included

Country Of Origin

Japan

Suggested Retail Price (HK$)

1998
Warranty
Warranty registration is not required for this product. Customers must retain the "Product Warranty Card" and the original of purchase invoice for verification when repair service is required.