"Resyone Plus" Robotic Care Bed/Wheelchair
Suggested Retail Price HK$83,000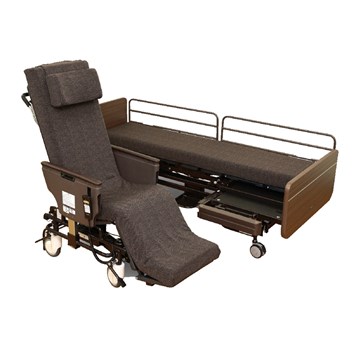 Highlights
Resyone Plus relieves the burden on caregivers and improves users' quality of life.

The new idea of integration of "electric care bed" and "wheelchair" assists you out of bed with ease every day.

Robotic Care Bed - Looking for a comfortable way for both users and caregivers.

Electric Reclining Wheelchair - Comfortable and safe, easy to go
Features
For families' users:
More opportunity to get out of bed and let the user have more fun in life.
As the bed can become a wheelchair, no more transfer and feel safe.
As the user can enjoy more life experience, it will make the families feel relief during the visit.
For Caregivers:
One caregiver can handle the transfer. Transfer time can be reduced to half.
Less burden on the waist and psychological burden on getting hurt and falling are reduced by approximately 80%.

Less space is required as a single unit is equipped with multi-functions.
For Facility operators:
As the transfer assistance becomes more efficient, it contributes to the quality of caregiving.
Physical and psychological burden can be reduced and such may help caregivers stay at their jobs.
Advance equipment may contribute to the recruitment of new caregivers and encourage more people to move into the facility.
Specifications



"Resyone Plus" Robotic Care Bed/Wheelchair

Health Care

Resyone Plus

Maximum Body Weight of User

100 kg

Mattress Dimension

Mattress (Length)

1970 mm

Mattress (Width)

920 mm (Bed)
460 mm (Wheel Chair)

Mattress (Height)

100mm (urethane 3 layer structure)
(Bedsores guide: ~ Stage II)

Bed with Wheel Chair

Bed Dimension

Bed (Length)

2075 mm

Bed (Width)

1003 mm (Bed unit)
1009 mm (combined with Wheel Chair)

Bed (Height)

799 - 1079 mm

Bottom Dimension

Bottom (Length)

1945 mm

Bottom (Width)

890 mm (including Wheel Chair)

Bottom (Height)

455 - 735 mm

Head raising angle

0 - 70°

Foot Raising Angle

0 - 28°

Caster Diameter

100 mm

Power Supply

220VAC 50Hz

Power Consumption

200W

Weight

164 kg (including Wheel Chair)

Wheel Chair

Wheel Chair Dimension

Sitting State (Length)

1178 mm

Sitting State (Width)

554 mm

Sitting State (Height)

1236 mm

Seat Surface Dimension

Seat Surface (Width)

430 mm

Seat Surface (Height)

425 mm

Back Raising Angle

0 - 75°

Caster Diameter

150 mm

Power Supply

DC24V (with Lead Storage Battery [2Ah], power charger)

Weight

50 kg

Optional Accessories

Fitted sheet PN-S106032HK(2 sheets per set)
Siderail PN-S106042HK(2 units per set)
Overbed-table VA1316039HK
Power Outage Battery Kit (for bed) PN-S106041HK
Warranty
Warranty registration is not required for this product. Customers must retain the "Product Warranty Card" and the original of purchase invoice for verification when repair service is required.