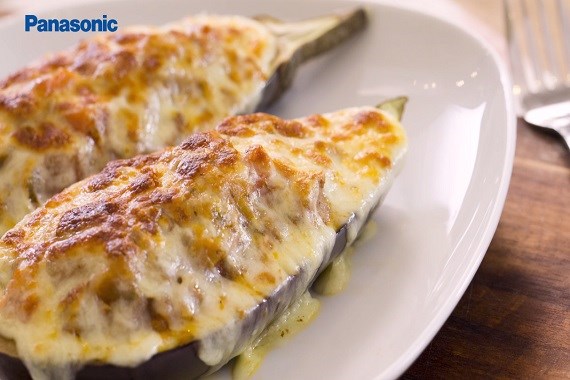 Ingredients
| | |
| --- | --- |
| Eggplant | 1pc |
| Tomato (dice) | 1/2pc |
| Onion (dice) | 1/4cup |
| Garlic (grated) | 2cloves |
| Beef (mince) | 1/4cup |
| Tomato Sauce | 1/4cup |
| Dried Mixed Herbs | 1/2tsp |
| Crushed Black Pepper | 1/4tsp |
| Salt | 1/8tsp |
| Water | 1/4cup |
| Mozzarella (grated) | 1/2cup |
Directions
Cut the eggplant into two halves vertically, scoop out the center of the eggplant while leaving a 1cm boundary on the periphery
Place the emptied eggplant on the glass shelf, put into the Panasonic My Chef Multi-Function Steam Oven NN-CS894B, select 'Auto Steam Menu 11: Root and Tuberous Vegetables', set weight as 500g.
Dice the remained eggplant.
Pan fry the onion, garlic, beef, eggplant, tomato sauce, herbs, salt, pepper together.
Stuff the meat sauces into the emptied eggplant, sprinkle with cheese.
Put into the steam oven with the metal tray, select, 'Grill 1' for 10 minutes and sever.
Video
Related Products