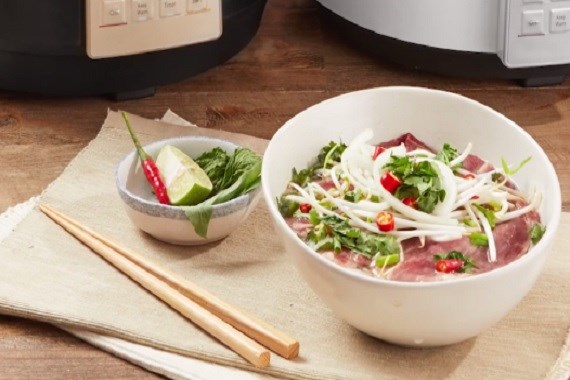 Ingredients
Beef Broth Ingredients

Beef Marrow Bone
1200 g
Beef Brisket
300 g
Onion
1/2 pc
Ginger
50 g
Red Shallots
2 pcs
Cloves
1 tsp
Star Anise
4 pcs
Cassia
2 sticks
Amomum tsaoko
2 pcs
White Peppercorns
1 tsp
Rock Sugar
1 pc
Salt
1/2 tsp

Pho Ingredients

Pho Rice Noodles
300 g
Beef Slices
120 g
Green Onion (chopped)
1 stalk
Coriander (chopped)
1 stalk
Thai Basil
1 sprig
Mint
1 sprig
Lime
1/2 pc
Bean Sprouts
some
Onion (sliced)
some
Fish Sauce
2 tbsp
Directions
Bring a pot of water to a boil. Blanch beef marrow bone and beef brisket for around 8 minutes. Take out, rinse well and set aside.
Use Panasonic Electronic Pressure Cooker SR-PG601 / SR-PG501, please keep the lid open and don't forget to lock the lid lock. Select 'Auxiliary Cooking' for 10 minutes, then press the 'Start'. Add onion, ginger, red shallots, cloves, star anise, cassia, amomum tsaoko and white peppercorns and fry until fragrant. Take out and put into a soup filter bag. Set aside.
Add the blanched beef marrow bone and beef brisket, the soup filter bag, rock sugar and salt into the cooker. Add water up to the 'Max' scale.
Select 'Soup' for 30 minutes.
Skim fat, and the beef broth is ready.
Add fish sauce, cooked Pho rice noodles, raw beef slices, bean sprouts, onion, green onion and coriander into a bowl in sequence. Pour in beef broth. Serve with Thai basil, mint, lime and red chili pepper if desired.
Video