Inverter ECO+AI Split Type Heat Pump Air-Conditioner (1HP)
Suggested Retail Price HK$7,580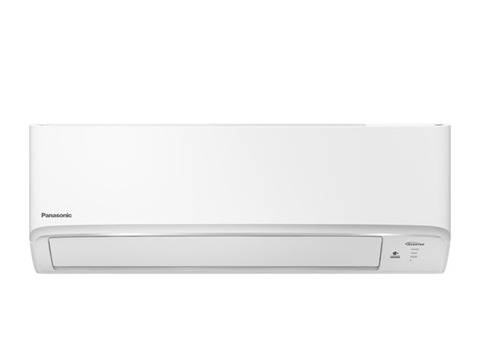 Highlights
Product Specification

1 HP (

Heatpump

Model - With Remote Control)
Cooling Capacity: 8,530 Btu/h
Heating Capacity: 10,600 Btu/h
Grade 1 Energy Label
Warranty

1 year warranty: Entire unit

5 years warranty: Compressor

Complimentary 6 months of Scaffolding Supporting Plan (Read More), starting from 1/4/2023.
Features
nanoe® X is a patented ion technology developed by Panasonic. It is an electrostatic atomization technology that collects invisible moisture in the air and applies high voltage to it to produce "hydroxyl radicals contained in water". The decisive factor is the existence of hydroxyl radicals inside nanoe®X. Hydroxyl radicals are characterized by being strongly oxidative and highly reactive to inhibit a wide variety of air-pollutants, associated with the effect of skin and hair motorization, which provides the best quality of air to your family.
7 Effects

The negatively charged nanoe-G adheres with PM2.5, inhibit up to 99% PM2.5*1,bacteria and viruses(e.g., staphylococcus aureus*2, influenza [H1N1]*2, Escherichia coil phage*2)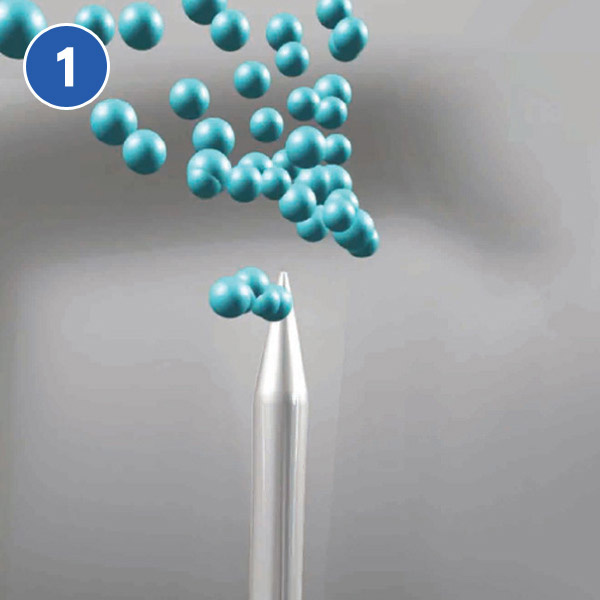 nanoe-G ion generator releases negative ions.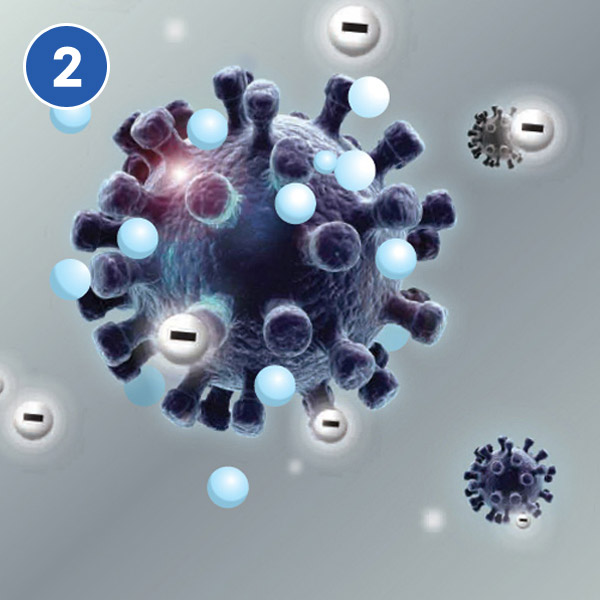 Negative ions attach to dust particles.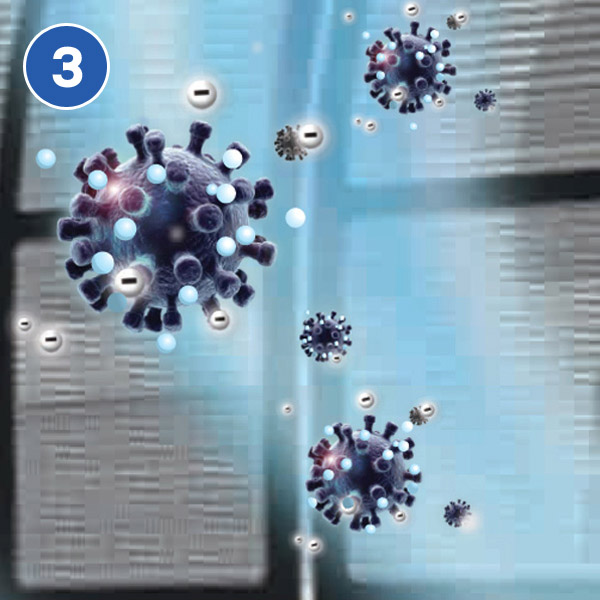 The pollutants are being taken to the filter
*1FCG Research Institute lnc Test result *2Kitasato Research Center for Environmental Science test result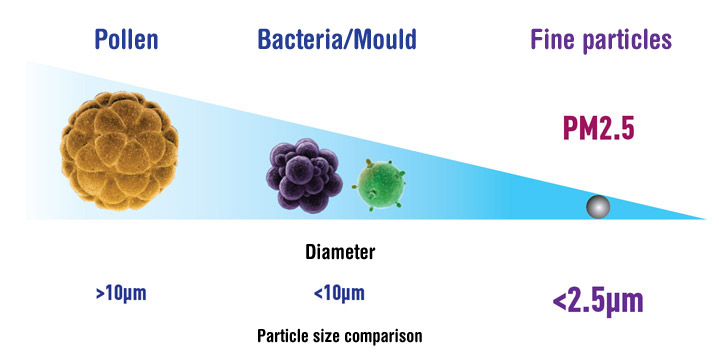 What is PM2.5?
PM 2.5 is know as particulate matter with size of less than 2.5 micrometers, which is one of the product of fossil fuel combustion. It is said to pose health problem as it can easily enter human lungs as it is smaller than bacteria.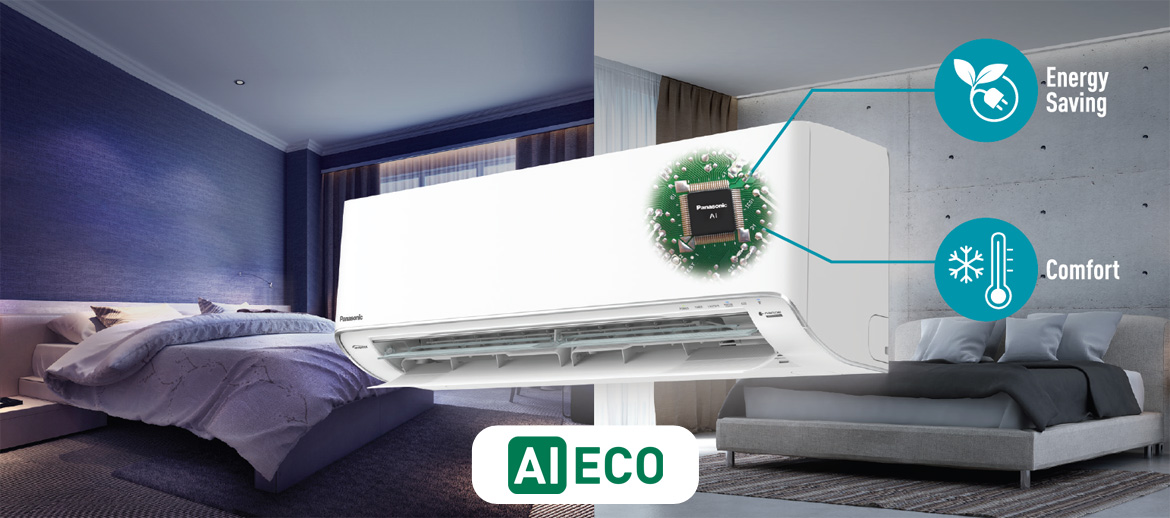 Intelligently Balances Energy Savings and Comfort
As each room in your home is different, ECO Mode Artificial Intelligence (A.I.) Control efficiently cools your room based on the amount of heat load and air conditioning capacity. It finds the perfect ECO balance between power consumption and time taken to reach the desired temperature to maintain your comfort with minimal energy waste.
ECO Mode with A.I. Control will automatically learn and judge what is the optimal ECO level based on:
2 Heat Source can be due to:
[A] Sunlight and lighting in the room
[B] Computers and appliances
[C] Body heat

When Your Air Conditioner is Switched on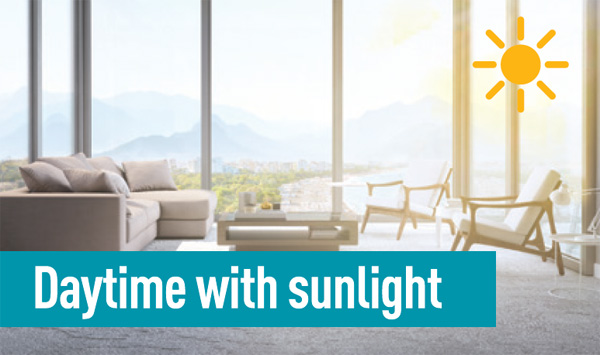 Requires Fast Cooling
ECO Mode with A.I. Prioritises on maximising cooling comfort while saving energy through ECO Mode.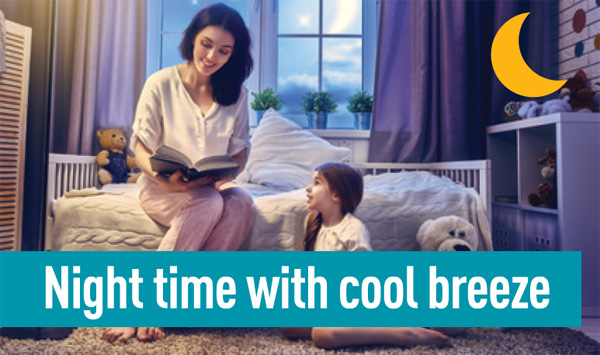 Does not require Fast Cooling
ECO Mode with A.I. prioritises on maximising energy savings over cooling comfort.
After Reaching Set Temperature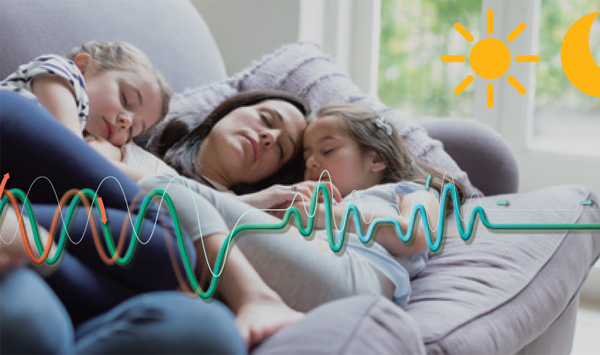 Consistent comfort day or night.
Saves energy after reaching set temperature.
ECO Mode with A.I. continues to save energy and automatically adjusts room temperature for consistent cooling comfort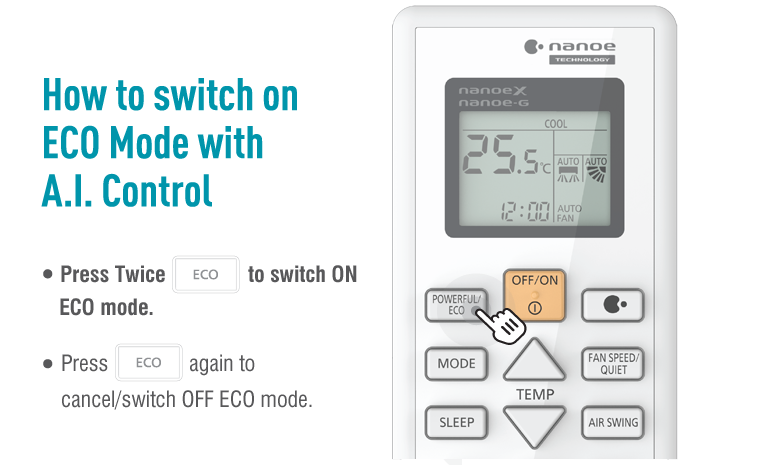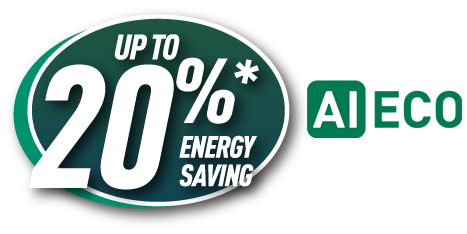 *Comparison of ECO Mode & normal mode by using 1.5HP Inverter Model
Total power consumption amount is measured for 1 hour under stable operation. At Panasonic Amenity Room (size : 13.3 m2)
The effect differs according to conditions in installation and usage
*.Applicable for models with ECO+A.I. function only
Japan SIAA Anti-static / Fungus Coating

It can prevent the fan from generating static electricity due to high-speed rotation, reduce dust or mold from adhering to the cross-flow fan, create a clean environment.
Intelligent, dynamic cooling with humidity control


According to research, the human body feels most comfortable when indoor temperature is at its optimal level and relative humidity is below 60%.
iAutoX will first lower the room temperature, and use its built-in humidity sensor to control the humidity, creating a comfortable zone for user.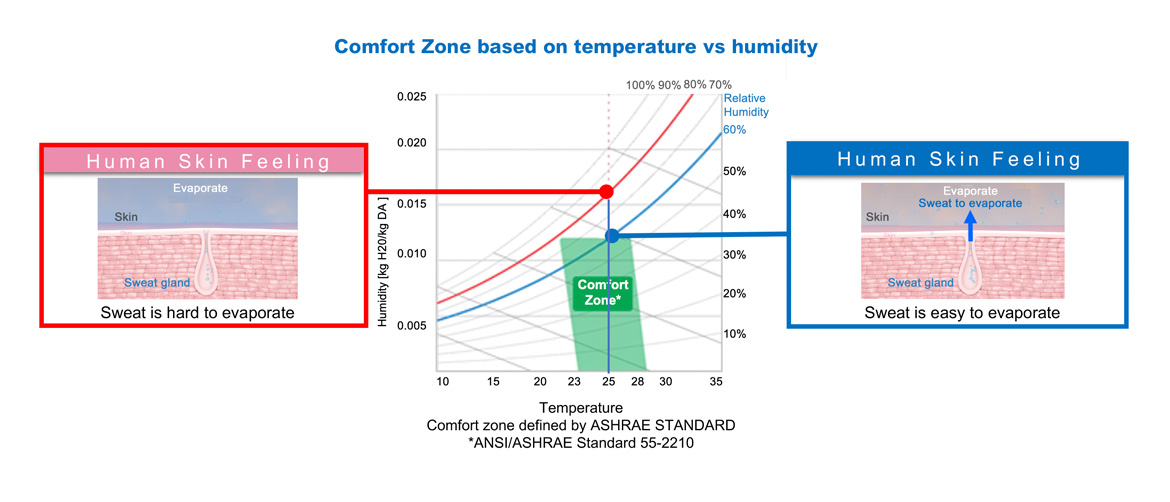 【Panasonic Inverter Air Cond.】Smart & Cool
【Anti-epidemic New Life of Panasonic nanoe™X Air Cond.】
【How to connect Panasonic Comfort Cloud ( Built-in Wifi)】
Specifications



Inverter ECO+AI Split Type Heat Pump Air-Conditioner (1HP)

Living

Air-Conditioner

Outdoor

CU-RZ9YKA

Inverter

●

Aerowings Feature Twin Flaps

●

Remote Control

●

Air-purifying System

nanoeX+nanoe-G

Cooling Capacity

Btu/h

8,530

kW

2.50

Heating Capacity

Btu/h

10,600

kW

3.10

EER

W/W

3.91

Seasonal Performance Factor

Cooling Seasonal Performance Factor (CSPF)

6.33

Heating Seasonal Performance Factor (HSPF)

5.10

Power Supply

Voltage V

220

Power Consumption A

Cooling Capacity:3.0;Heating Capacity:3.5

Input Power kW

Cooling Capacity:0.64;Heating Capacity:0.74

Power Plug

3-round-pin 15A plug

Moisture Removal

L/h

1.5

Pt/h

3.2

Air Circulation(Indoor / Hi)

m³/min.

Cooling Capacity:11.9;Heating Capacity:11.9

ft³/min.

Cooling Capacity:420;Heating Capacity:420

Indoor Unit Dimension(H x W x D)

mm

290 x 779 x 209

Outdoor Unit Dimension(H x W x D)

mm

542 x 780 x 289
The protruding pipes are excluded. For details, please download the file named "Dimension" in the section "Support".

Net Weight

Indoor Unit

8 kg

Outdoor

23 kg

Piping Diameter

Liquid mm / inch

ψ6.35 / 1/4"

Gas mm / inch

ψ9.52 / 3/8"

Power Supply

Indoor

Pipe Length Range

m

3-20

ft

9.8-65.6
FAQ