Wearable Gaming Speaker - FINAL FANTASY® XIV Online Edition
Suggested Retail Price HK$2,080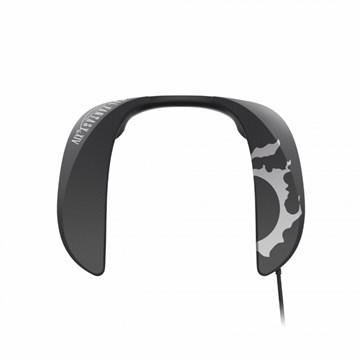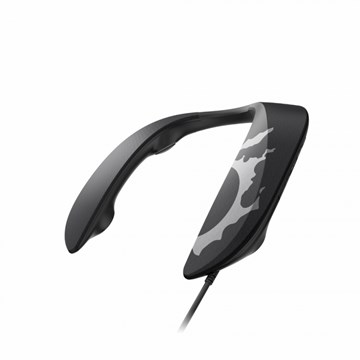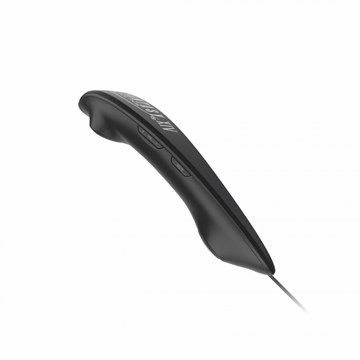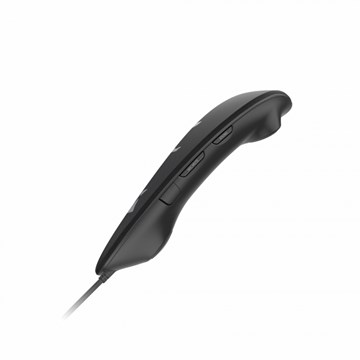 Features
A collaborative

FINAL FANTASY® XIV Online custom design featuring the iconic meteor logo

Iconic sound effects from FINAL FANTASY® XIV Online during power on and when switching sound modes

True MAGESS (True Majestic Augmented Gaming
Environment Sound System) with 4ch surround speakers
Equipped with 3 gaming sound modes (Role-Playing Games Mode, First-Person Shooter Mode, and Voice Mode(Suitable for adventure game) jointly developed with

FINAL FANTASY® XIV Online sound team from

SQAURE ENIX

®

Comfortable design fits your shoulders, and comfortable play for a long time
Compatible for PC (Windows 10), PS4/PS5, Xbox One/Xbox Series S/X*, and Ninetendo Switch*

Noise and echo cancelling dual microphone, users can enjoy playing with your friends with the voice chat function

Operated easily while gaming: Two mute buttons let you control microphone and videogame
*For connecting Xbox One, Xbox Series S/X and Nintendo Switch (Tabletop/Handheld mode), an audio cable is required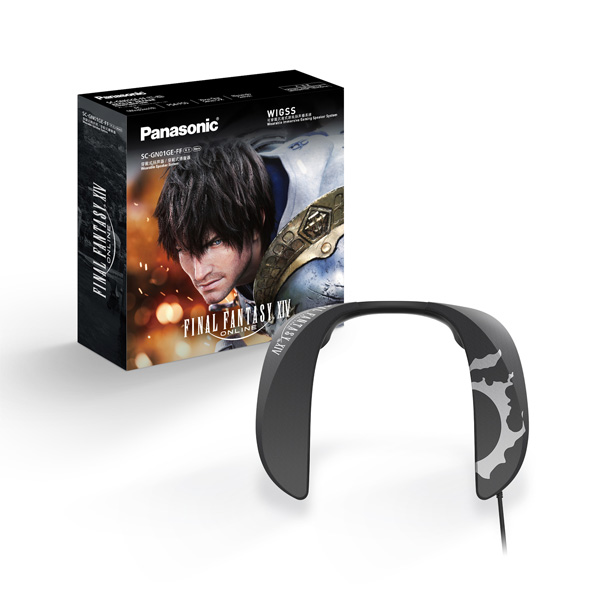 Experience the whole world of FINAL FANTASY® XIV Online
Now you can enjoy the sounds of FINAL FANTASY® XIV Online to their fullest while also showing off you're a Warrior of Light. Get your hands on this special edition of the GN01 which comes with a collaborative FINAL FANTASY® XIV Online custom design and special sound effects pulled straight from in-game!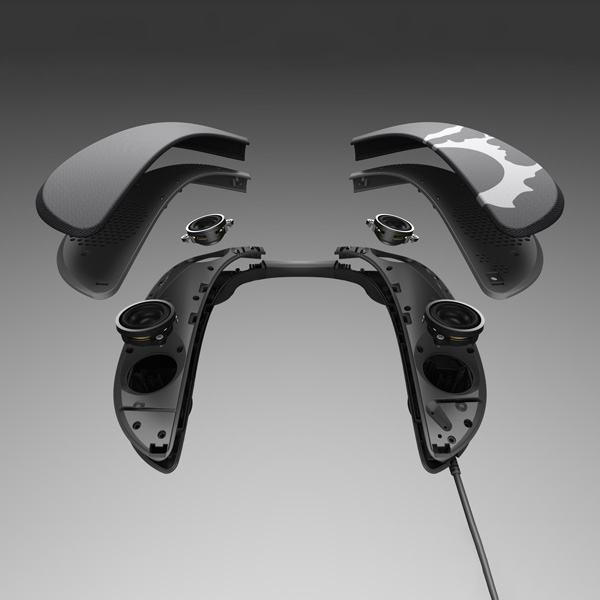 Immersive Surround Sound Experience
Thanks to the 4 speakers located in an ideal ergonomic position, you can enjoy a truly realistic and immersive sound experience while playing your favorite games.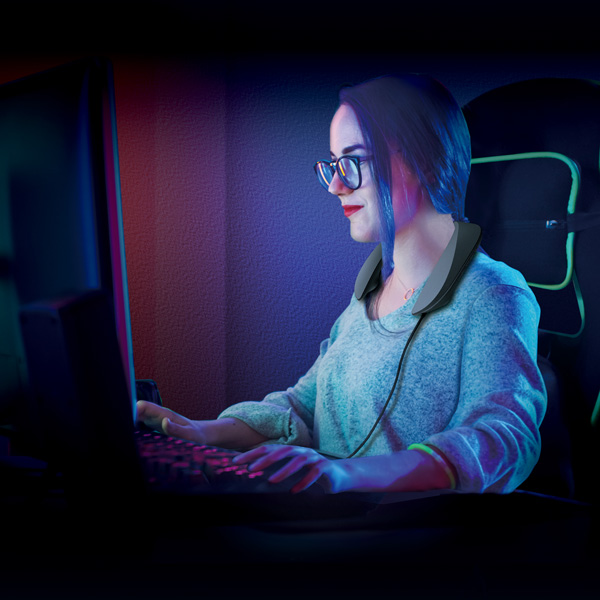 Comfortable Even for Long Hours of Play
Comfortable design fits your shoulders, and comfortable play for a long time because it does not block your ears.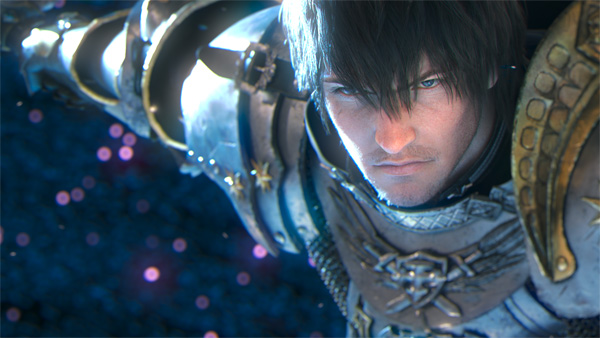 Great Sound, Whatever the Style of Play
3 gaming modes (Role-Playing Game Mode, First-Person Shooter Mode and Voice Mode(Suitable for adventure game)) are expertly created through joint development with the FINAL FANTASY® XIV Online sound team, allowing users to fully enjoy the gameplay. Switching between the 3 modes depending on the game will create an experience filled with intensity, tension and reality.
FINAL FANTASY, FFXIV, SQUARE ENIX and the SQUARE ENIX logo are registered trademarks or trademarks of Square Enix Holdings Co., Ltd.
FINAL FANTASY XIV © 2010 - 2022 SQUARE ENIX CO., LTD. All Rights Reserved.
Clear Voice Communication for Gaming
For voice duties, the GN01 is equipped with a high-performance noise and echo cancelling dual microphone. This allows you to chat clearly with other players without interference from the powerful sound of the speakers.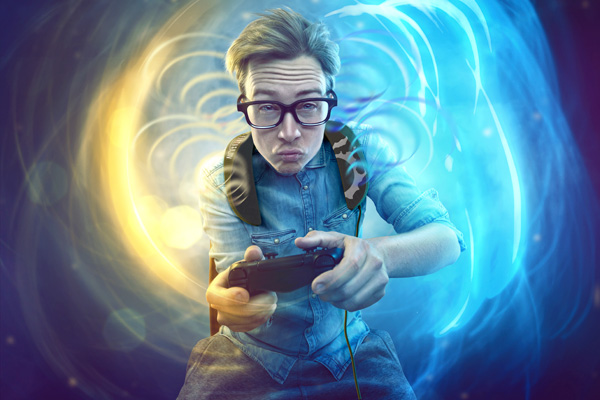 Fast Response Time With No Delay
As a gamer you want a fast response, so you will appreciate the 3m long USB cable that transmits the sound signals without any delay. Many game consoles enable connections with a single USB cable, just be sure to check the instruction manual of your gaming device.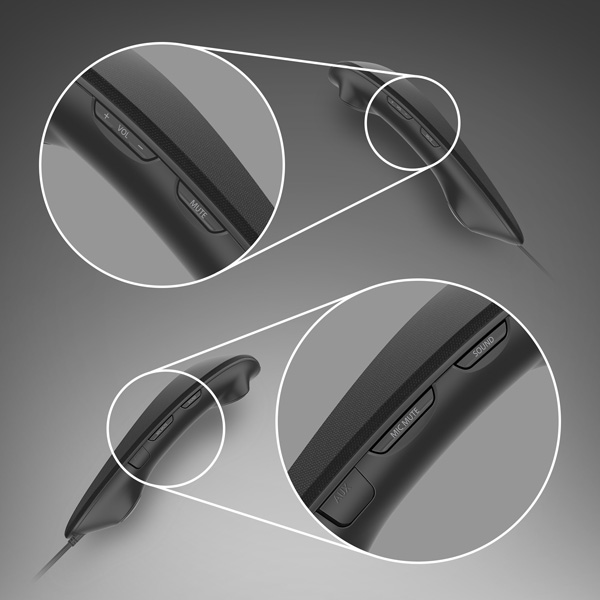 Easy and Convenient Operation
The GN01 can be operated easily while gaming: Two mute buttons let you control microphone and videogame. Wired connection is offered as USB and AUX option.
Specifications



Wearable Gaming Speaker - FINAL FANTASY® XIV Online Edition

Audio

General Specifications

Gaming Speaker

Amplifier

Output Power

Total RMS Output Power: 4W (1kHz, T.H.D.10.0%, 6Ω, 20kHz LPF)*¹

Speaker System

Speaker Unit

3.0 cm Cone type x 4 (Front L/R, Surround L/R)

Inpedance

6Ω

Sound Function

Surround

Y

Sound Mode

GAME (RPG/ FPS/ Voice)
MUSIC
CINEMA
STEREO

Switches

Mic Mute x1 (Tact Switch)
Sound Mute x1 (Tact Switch)
Volume control Up / Down x2 (Tact Switch)
Sound Mode x1 (Tact Switch)

LPCM

USB: Multi Channel Input (PC only)

Microphone

Microphone units

MEMS type 2 pcs

Terminal*²

USB Port

USB plug: USB Type A

AUX

Audio input/output: 3.5㎜ mini jack CTIA compliant*³

Compatible equipment*⁴

Connection with USB cable: PC, PS4, PS5, Nintendo Switch (TV mode)
Connection with Audio cable*⁵: PC, PS4, PS5, Xbox One, Xbox Series S/X, Nintendo Switch (Tabletop/ Handheld mode)
PC compatible OS*⁶: Windows10

General

Power Supply (USB cable)

DC 5V 900 mA

Display

LED indicator: Mic Mute (Red)

Power Consumption

Approx. 4.5 W

Supplied Accessory

Approx. 1.5m Audio cable

Dimensions, Weight

Main Unit

Length of USB cable: Approx. 3m
Dimensions (W x H x D): Approx. 240 x 46 x 209mm
Weight: Approx. 244g*⁷

Remarks

*1 When the power supply capacity of the USB port of the connected device is 5 V 900 mA. At 5V 500 mA, the volume will be low.
*2 When connecting the headset terminal of the connected device to the audio cable (included), connect the USB cable to the USB port of the connected device or the USB power supply (sold separately), Use a USB power supply (sold separately) equivalent to 5 V 900 mA.
*3 We do not quarantee the operation of audio output and microphone input of all devices equipped with a headset terminal compatible with 3.5 mm mini jack.
*4 Be sure to check the instruction manual of each compatible device before using it by connecting it. *5 Please use by connecting the USB plug to the USB port or USB power supply (sold separately).
*6 We do not quarantee the operation of all PCs equipped with a compatible OS.
*7 Not include Cable and USB plug