Water Purifier (Faucet Type) (filter soluble lead)
Suggested Retail Price HK$798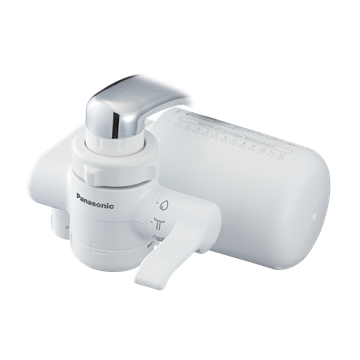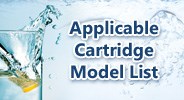 Highlights
Remove Trihalomenthane, Free residual Chlorine, mold smell, turbidity and etc
New Technology to create nano-sized pocket of activated carbon to reinforce purifying capability
Purifying 99.999% bacteria
70% more activated carbon (compared with PJ-225R) to reinforce purifying capability
Hollow Fiber Membrane shuts out more than 0.1um particles
Ceramic can remove soluble lead
Cartridge: TK-CJ600C
Made in Japan
(In order to keep the best purifying performance, please change cartridge regularly.)
Features
Remove Trihalomenthane, Free residual Chlorine, mold smell, turbidity and etc
New Technology to create nano-sized pocket of activated carbon to reinforce purifying capability
Purifying 99.999% bacteria
70% more activated carbon (compared with PJ-225R) to reinforce purifying capability
Hollow Fiber Membrane shuts out more than 0.1um particles
Ceramic can remove soluble lead
Cartridge: TK-CJ600C
Made in Japan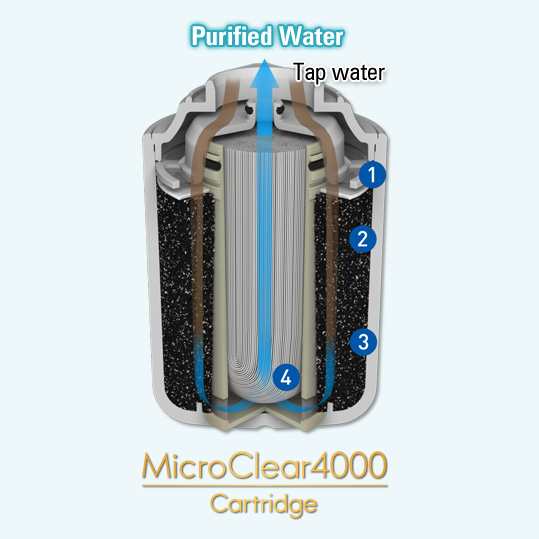 Mesh removes visible red rust and dirt.
High performance activated carbon removes 17 types of impurities contained in water.
Ceramic removes soluble lead contained in water.
Hollow fibre membrane removes bacteria and small particles.
*Image is for illustrative purposes only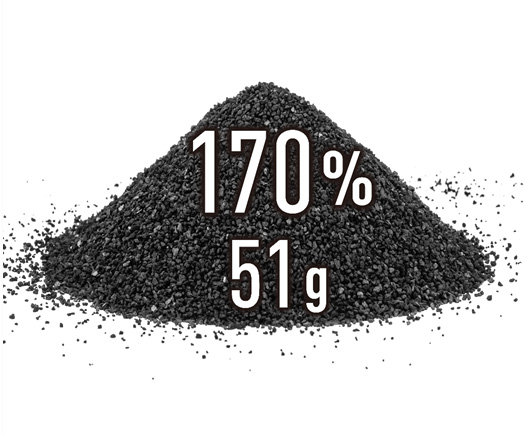 Increased High Performance Activated Carbon 170%*!
The MicroClear4000 cartridge contains 51 g, 170%* of high performance activated carbon. This delivers high purification performance.
*In weight compared with PJ-225R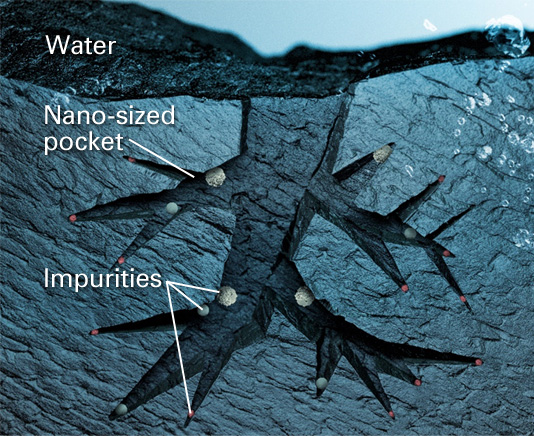 Original technology creates nano-sized pocket that can remove more impurities, including the fine chemical trihalomethane. Creating more nano-sized pockets and surface area increases the removal of impurities.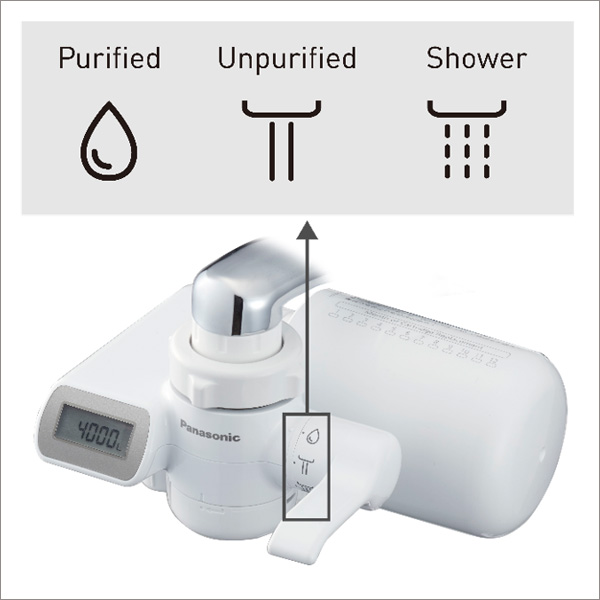 Easy Water Flow Switch
The water flow can be switched with a simple operation. Pictograms reduces switching mistakes.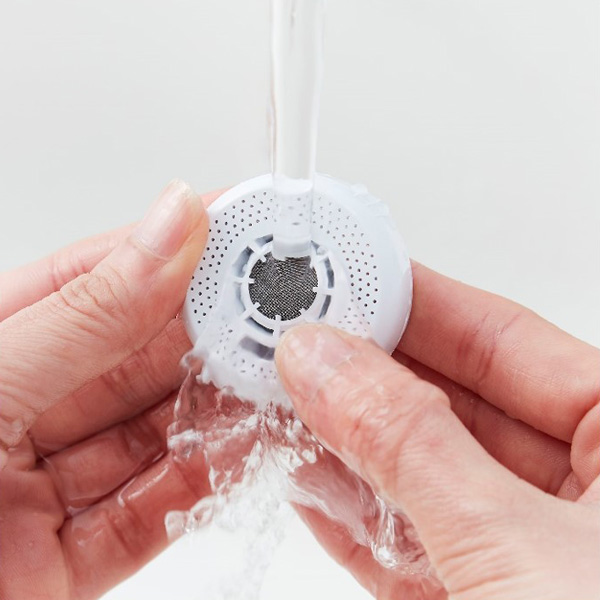 Easy to Clean Detachable Cover of Tap Water Outlet
The shower part where water stains tend to clog is removable, it can be easily cleaned and at any time.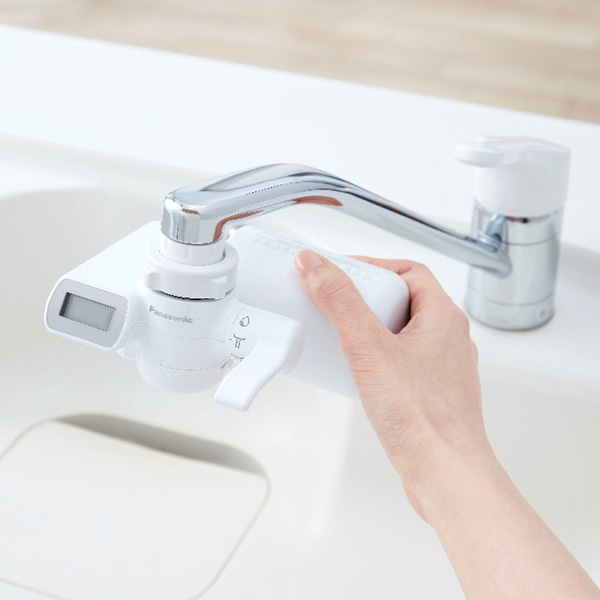 Easy Cartridge Replacement
Cartridge replacement is completed in just 2 easy steps. Rotate the cartridge counter-clockwise and pull to remove it, then do the opposite to install.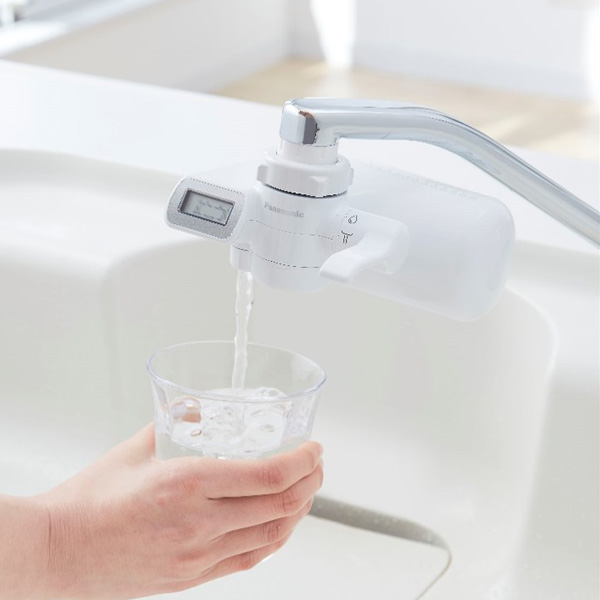 Purified Water Output Volume 1.8 L / min
With an output of 1.8 L / min*, you can always use clean water without stress.
*When water pressure is 100 kPa
Specifications



Water Purifier (Faucet Type) (filter soluble lead)

Health Care

Water Purifying Product

Water Purifier

Rating

-

Electric power consumption

-

Main unit

Dimensions

125(W)X110(D)X75(H)mm

Weight

0.31kg

Main unit usable water temperature

-

Usable water service pressure (Static pressure)

-

Electrolysis

Electrolysis method

-

Output water volume (Generated water flow amount)

-

Electrolytic capability selection

-

Continuous operation capacity

-

Electrolyzer life

-

Electrolytic cleaning

-

Purification Capacity

Purified water output volume

-

Filtration flow volume

1.8L/min

Filtration capacity

4,000L

Filter usage limit (Guide to replacement)

-

Filter Materials

-

Removable constituents

Free Residual Chlorine、 Turbidity、 Total Trihalomethane、 Bromodichloromethane、 Dibromochloromethane、 Bromoform、 Tetrachloroethylene、 Trichloroethylene、 CAT(pesticide)、 2-MIB(mold smell)、 Soluble Lead、 Benzene、 Geosmin (mold smell)、 Phenols、 Carbon tetrachloride、 Iron、 Aluminium

Non-removable constituents

-

Length of power cord

-

AC Plug

-

Power protection device

-

Overheating protection devices (inside isolation transformer)

-

Replacement cartridge model no.

TK-CJ600C (filter soluble lead)
FAQ
Warranty
Warranty registration is not required for this product. Customers must retain the "Product Warranty Card" and the original of purchase invoice for verification when repair service is required.