2-in-1 IH Warm Jar
Suggested Retail Price HK$2,198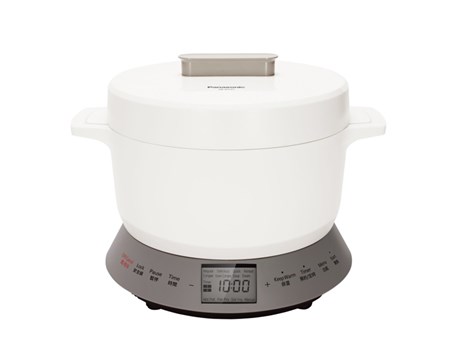 Features
IH cooker cooking program: Hot Pot, Pan Fry, Stir Fry & Manual
Power Consumption: 2,000W
10 levels of heat adjustment, bottom temperature sensor controls the temperature precisely
5 Hours Timer
Overheat prevention, small object detection & pot detection
Auto shut off function:
- No pot detection or no operation
- No operation after heating
Child lock key avoids pressing the wrong buttons on the control panel by mistake
Slip-resistant microcrystalline top plate to fix the cookware
Touch panel & LCD display
Compact design, no need of extra storage for IH cooker
Grade 5 Energy Label
Steaming basket, rice scoop, ladle & measuring cup included
Colour: White
Made in China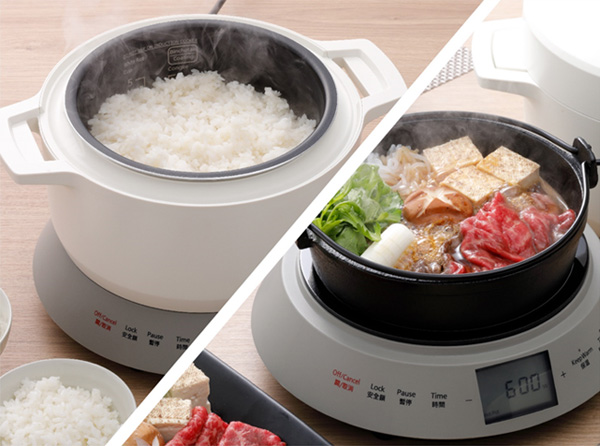 2-in-1 IH Warm Jar + IH Cooker
In addition to using the IH Warm Jar to cook fantastic rice, you can also use the IH Cooker to prepare other delicious dishes.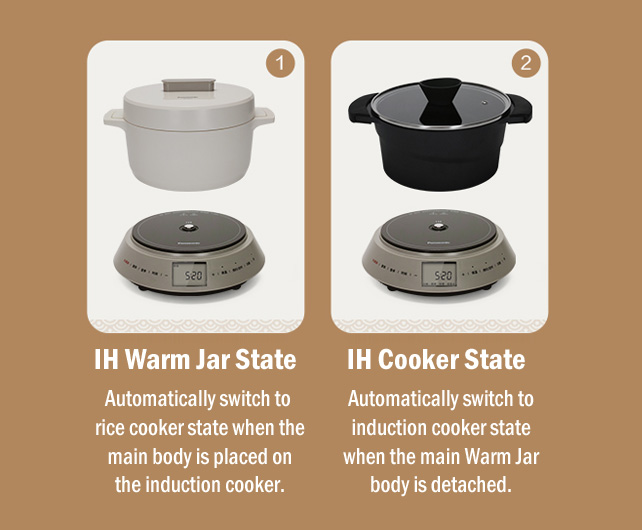 IH Warm Jar Function

Powerful Induction Heating

Stainless Steel Inner Pan with "Binchotan" Coating

Detachable Structure

24-hour Cooking Preset Timer

Removable Inner Lid
IH Cooker Function

2000W Output Power

Previse Temperature Control

10 Levels of Heat Adjustment
Slip-resistant Microcrystalline Panel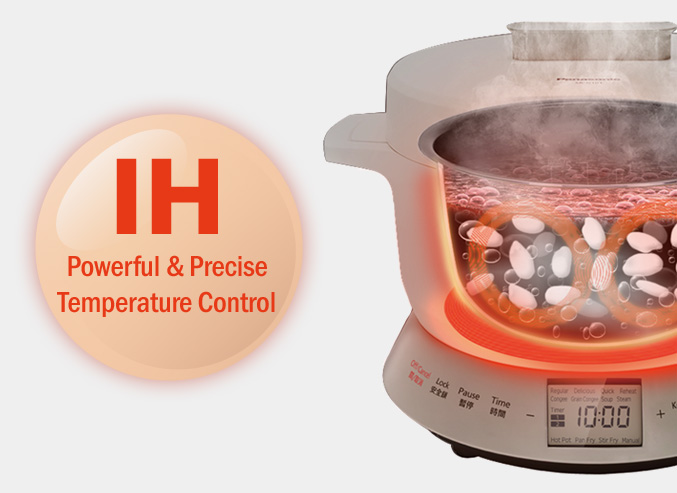 The powerful IH heats the rice evenly, each grain of rice is cooked sweet and delicious.
Fast temperature rise through powerful heating, heat permeates uniformly even when cooking a large amount of rice.
The IH Warm Jar provides various menu for cooking different food.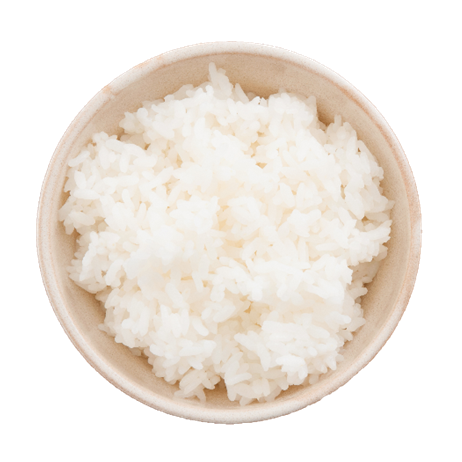 White Rice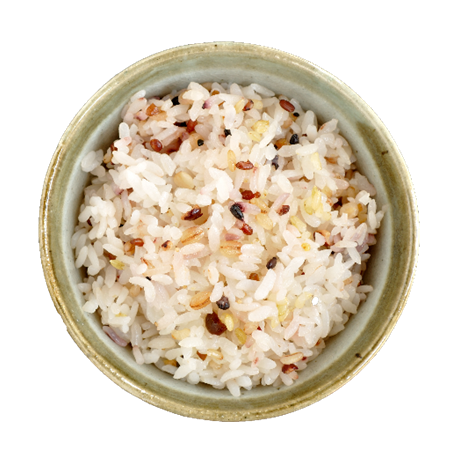 Mixed Rice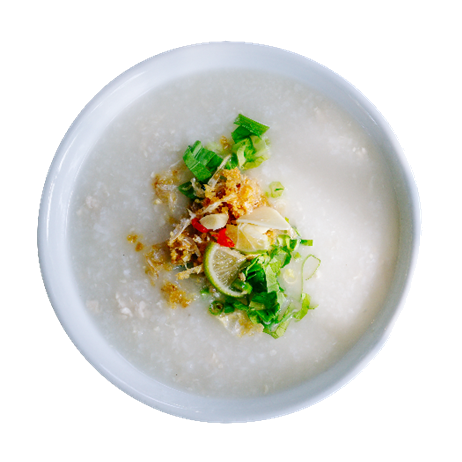 Congee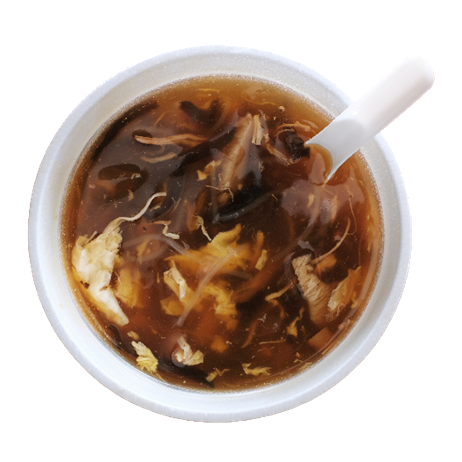 Soup
Steam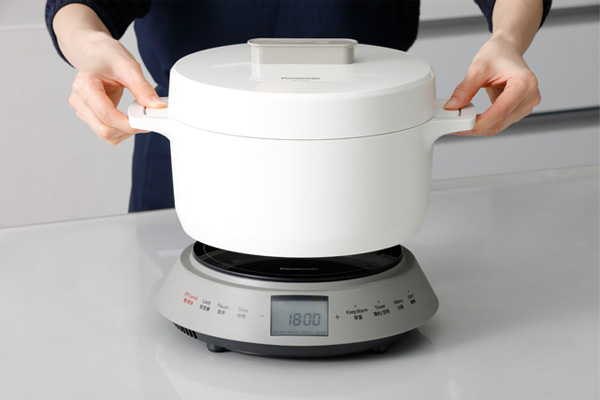 Keep Warm Up to 3 Hours Even Without Power
By removing the Warm Jar body from the heater, rice can stay warm for up to 3 hours. Everyone can enjoy delicious rice throughout the meal.
Keep rice warm for up to 5 hours with power.
Easily remove the Warm Jar body and the IH Cooker can be used separately.

Deliver heat to the core of each rice grain to cook sweeter and more delicious rice.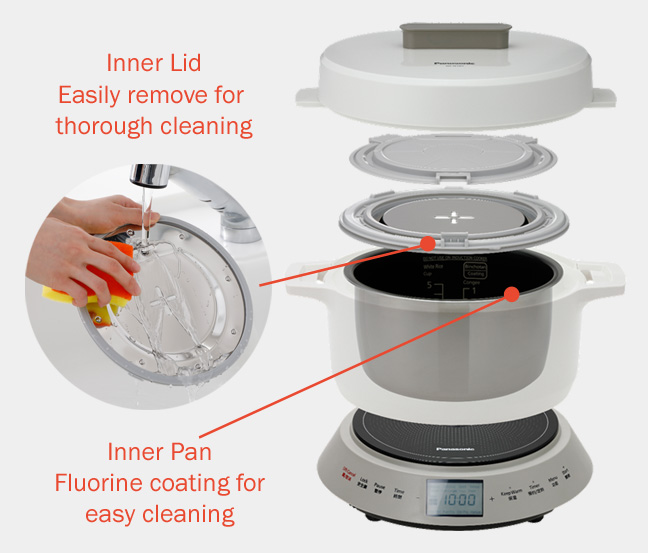 The inner lid can be disassembled easily and cleaned thoroughly, so that it is not easy to hide dirt and breed bacteria.
Accessories:
Simply use and a soft sponge to clean each diluted detergent accessory.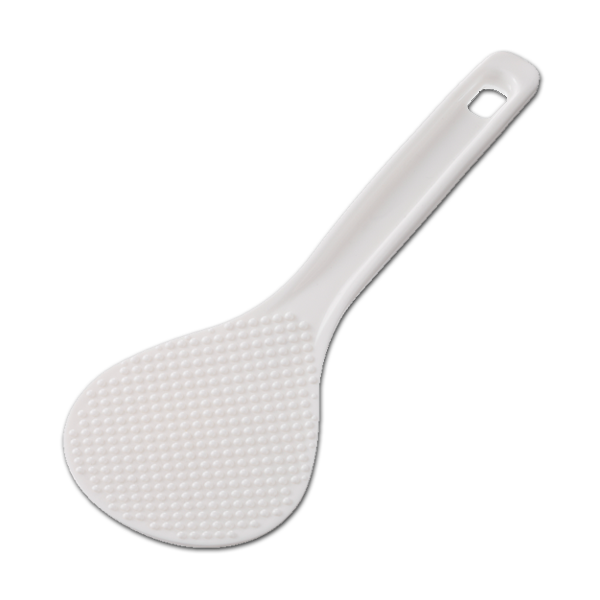 Rice scoop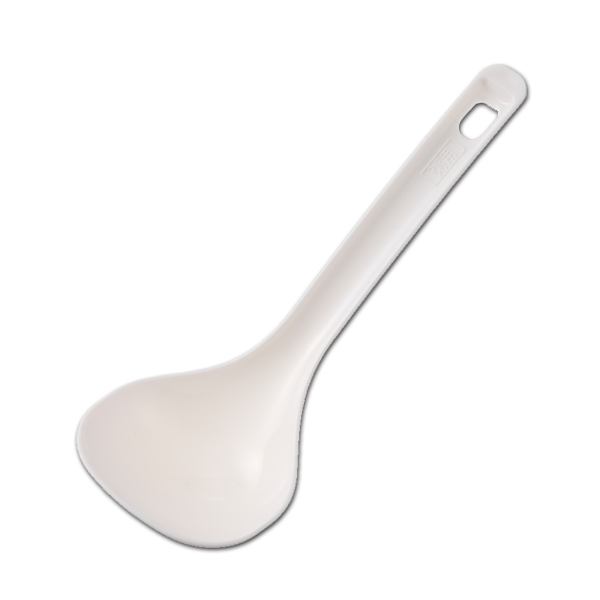 Congee(Soup) scoop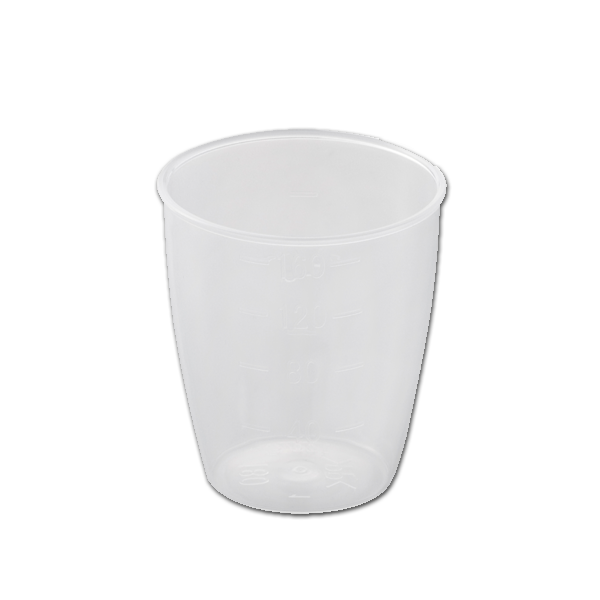 Measuring cup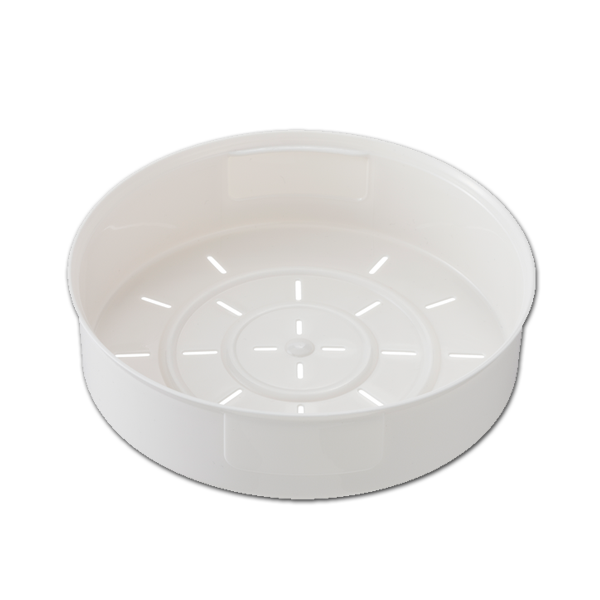 Steaming basket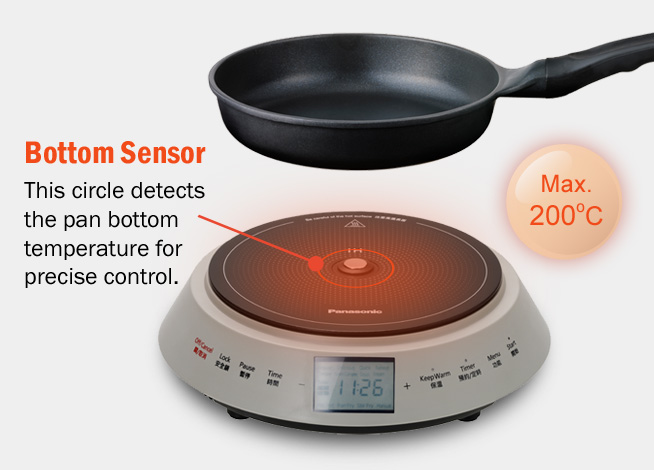 2000W powerful heat permeates evenly throughout the pots and pans. Cookware heats up quickly and helps you cook more efficiently.
Output Power 200W - 2000W
Precise temperature control with 10 heat adjustment settings.
Compatible Cookware and Sizes
Iron, enamel, and stainless steel

Flat pan bottom can fit tightly with the microcrystalline panel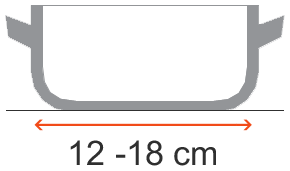 In respond to different cooking methods, the bottom sensor can accurately control the temperature for heating and making delicious food.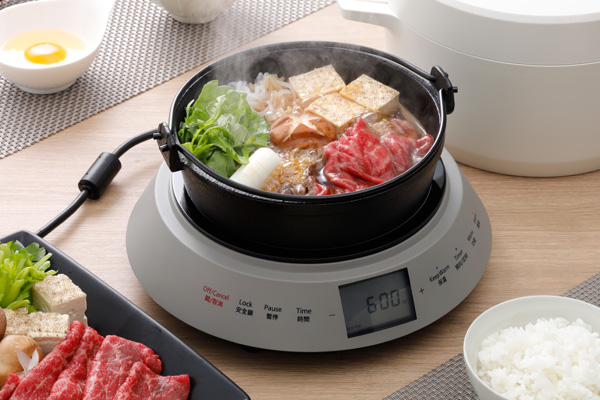 Hot Pot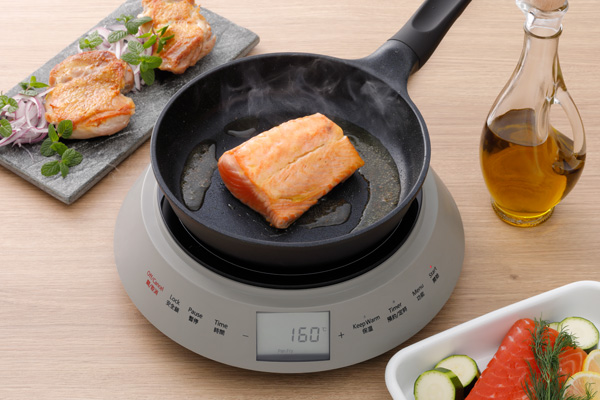 Pan Fry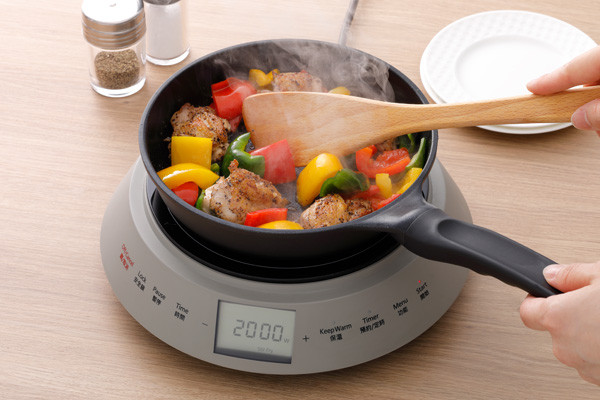 Stir Fry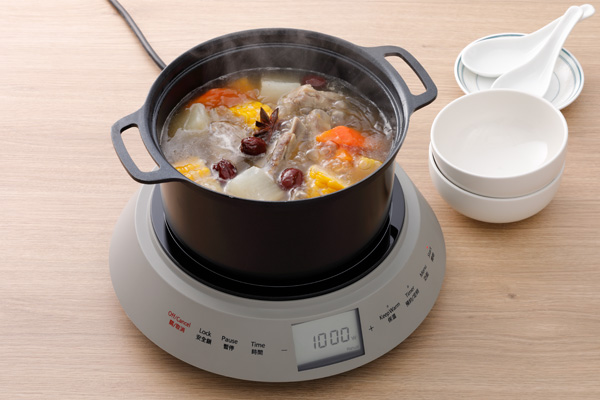 Manual
Specifications



2-in-1 IH Warm Jar

Kitchen

Rice Cooker

Capacity

1.0L (1-5cups)

IH Heating

O

Fuzzy Logic

O

Pre-set Timer

24 hours (at 10-minute intervals)

Quick Cook

O

Reheating

O

Inner Pan

Stainless steel with "Binchotan" coating

Inner Lid

Detachable

LCD Display

O

Clean Function

---

Beeper Rings after Cooking Finished

O

Colour

White

Power Consumption

Rice Cooking

1,180W

Taste Recipes

White Rice

O

Casserole Rice

---

Quick Cook

O

Sticky Rice

O

Sushi Rice

---

Mixed Rice

O

Brown Rice

---

Congee (Porridge)

O

Grains

---

Steaming

O

Cake

---

Bread

---

Slow Cook

---

Risotto

---

Noodle

---

Yogurt

---

Soup

O

Cooking Timer

Congee Cooking Timer

40-120 minutes

Steam Cooking Timer

1-60 minutes

Keep Warm

Time

24 hours

Display Keep Warm Time

O

Accessories

Water Vessel

---

Steaming Basket

O

Cooking Plate

---

Rice Scoop Holder

---

Rice Scoop

O

Ladle

O

Measuring Cup

O

Weight (Approx.)

4.3kg

Dimension (W x D x H)

32.8 x 27.2 x 25.3 cm