Window Mount JustFit Thermo Ventilator
Suggested Retail Price HK$2,980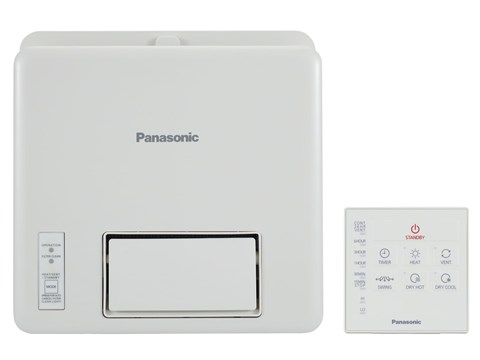 Highlights
Slim Design for Small Window
2 levels Ventilation Speed Control. Up to 220m³/h
Maximum Power Consumption: 1,200W
Louver Size (mm): 280 (H) x 280 (W)
Installation Size (mm): 242 (H) x 238 (W)
Power Source: 6A
Features
Slim Design for Small Window
Heating, Clothes Drying, Ventilation and Circulation
Window Mount Installation
2 levels Ventilation Speed Control. Up to 220m³/h
Auto/ Manual Swing Operation
RF Wireless Remote Control (Must be paired with the product before use)
Water-resistant Body and Remote Control (IPX4)
Alleru-buster Filter
Maximum Power Consumption: 1,200W
Louver Size (mm): 280 (H) x 280 (W)
Installation Size (mm): 242 (H) x 238 (W)
Body Depth (mm):286
Power Source: 6A
With Timer Setting. Max. time

Heat: 180mins
Vent: CONT.
Dry Hot: 360mins
Dry Cool: CONT.
Specifications



Window Mount JustFit Thermo Ventilator

Living

Thermo Ventilator

Heater

PTC

Installation Type

Window Mount

Control Type

RF Wireless Remote (Included CR2032 Battery) (Must be paired with the product before use)

Auto Swing

Yes

Heating

High ● Low

Dry

Hot ● Cool

Ventilation

High ● Low

Timer

15 ● 30 ● 60 ● 180 ● 360Minute CONT.

Air Volume (Ventilation)

220 m³/h

Air Volume (Circulation)

130 m³/h

Noise (Ventilation)

48 dB

Noise (Heating)

48 dB

Wattage (Ventilation)

34 W

Wattage (Power Consumption)

1,200 W

Filter

Antibacterial Filter

No. of Motor / Blade

1/1

No. of Exhaust Outlet

1

Installation Hole Size

242mm(H) x 238mm(W)

Louver Size

280mm(H) x 280mm(W)

Power Cord

Not included
FAQ