Ceiling Mount nanoe®X Thermo Ventilator (Deluxe)
Suggested Retail Price HK$5,980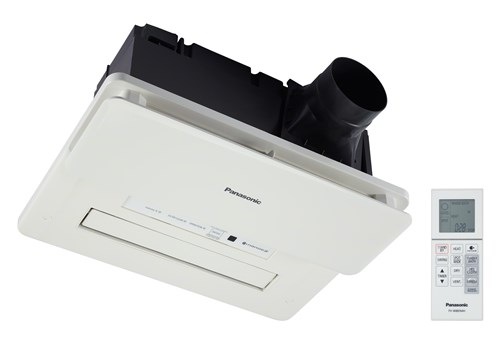 Highlights
Equipped nanoe®X Air-purifying Function to Inhibit the Activity of Airborne, Adhered Bacteria and Viruses
Upgraded Preset Programs - "CARE MODE+", Automatically Switch the Working Function, Provide You a Better User Experience
Body Height 180mm Only. Suitable for Hong Kong Living Environment
Antibacterial Filter
Maximum Power Consumption: 2,650W
Dimension (mm):472 (L) x 350 (W) x 229 (H)
Features
Equipped nanoe®X Air-purifying Function to Inhibit the Activity of Airborne, Adhered Bacteria and Viruses
nanoe®X Device Generate up to 9,600 Billion of Hydroxyl Radicals per Second whose Amount is 20 Times than nanoe®
nanoe®X is Effective in Suppressing up to 99.9% Viruses and Bacteria such as Influenza Virus (H1N1, H5N1), Escherichia Coli (O157) and Staphylococcus Aureus (MRSA)
nanoe®X Inhibits up to 99.99% of SARS-COV2 Virus
nanoe®X is Effective to Reduce Odour, like Sweat Odour and Damp Odour, to Keep Bathroom Air Fresh
nanoe®X Inactivates on Mold to Prevent Musty Odour and Mildew
nanoe®X Generates through Condensation and Ionization of Moisture in Air, Eliminates the Need of nanoe®X Unit Replacement
Heating, Clothes Drying, Ventilation and Circulation
Upgraded Preset Programs - "CARE MODE+", Automatically Switch the Working Function, Provide You a Better User Experience


Warm Bath
Dry cloth
Refresh

Auto Swing Operation
Body Height 180mm Only. Suitable for Hong Kong Living Environment
Antibacterial Filter
Water-resistant Remote Control (IPX4)
Maximum Power Consumption: 2,650W
Dimension (mm): 472(L) x 350 (W) x 229 (H)
With Timer Setting. Max. Time

Heat: 180 mins
Vent: CONT

.

Dry Hot: 360 mins
Dry Cool: CONT

.

nanoe®X: CONT.
Specifications



Ceiling Mount nanoe®X Thermo Ventilator (Deluxe)

Living

Thermo Ventilator

Heater

PTC

Installation Type

Ceiling Mount

Control Type

Wireless Remote

Auto Mode

Yes

Auto Swing

Yes

Heating

Hi ● Lo ● Auto

Dry

Hot ● Cool

Ventilation

Hi ● Lo

Timer

5 - 720Minute CONT.

Air Volume (Ventilation)

220 m³/h

Air Volume (Circulation)

170 m³/h

Noise (Ventilation)

42 dB

Noise (Heating)

45 dB

Wattage (Ventilation)

29 W

Wattage (Power Consumption)

2,650 W (16A or Above Power Source is Required)

Filter

Antibacterial Filter

No. of Motor / Blade

2/2

No. of Exhaust Outlet

1

Installation Hole Size

400mm(L) x 280mm(W)

Louver Size

472mm(L) x 350mm(W)

Duct Diameter

100mm

Power Cord

Not included
FAQ