nanoe® Hair Dryer
Suggested Retail Price HK$838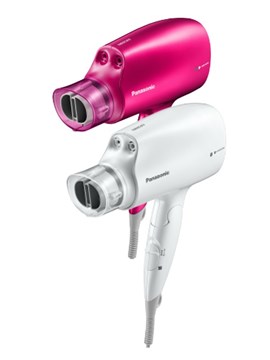 Highlights
1,600W*
Platinum ions can tighten the cuticles, which help strengthen and smoothen the hair to alleviate the damage by UV

The innovative nanoe® Technology (Moisture content in nanoe® ions is approximately 1,000 times greater than that in negative ions) and nanoe® ion charge panel attracts nanoe® ions to infiltrate deeply into hair
Features
1,600W*
Platinum ions can tighten the cuticles, which help strengthen and smoothen the hair to alleviate the damage by UV

The innovative nanoe® Technology (Moisture content in nanoe® ions is approximately 1,000 times greater than that in negative ions) and nanoe® ion charge panel attracts nanoe® ions to infiltrate deeply into hair

The air-outlet infused with keratin and coconut oil

Drying hair with treatment effect, which helps remove excess sebum, protect hair cuticles and moisturize hair

External nanoe® ion and platinum ion outlet helps to retain moisture
3 heat and 2 speed selections allow flexibility for drying and styling
50°C setting temperature preserves hair natural moisture level
Foldable handle for easy carry and storage
Attachment: Quick drying nozzle increases drying speed
Automatic overheating protective device
AC 220~240V / 1350~1600W (*Vary with the voltage)
Colour: Vivid Pink, white
Country of Origin: Thailand
Platinum ions x nanoe®
For beautiful hair and healthy scalp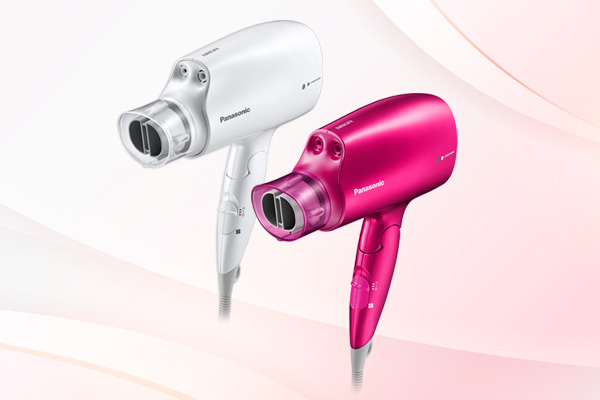 Platinum ions x nanoe®
For moisturized hair
nanoe® penetrates hair cuticle, delivering water to maintain the moisture balance inside hair, while platinum ions coat the hair surface and tighten the cuticle.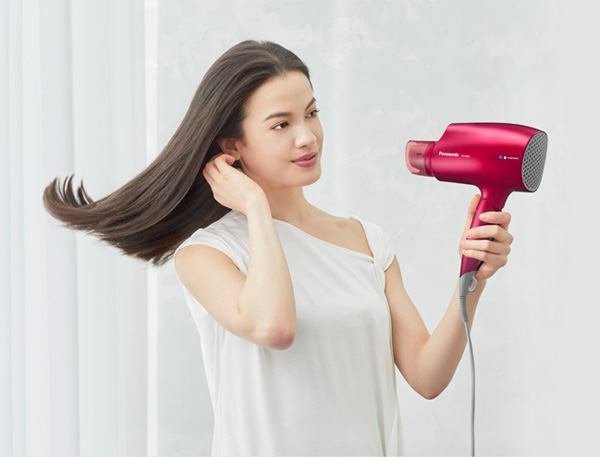 For UV-resilient, healthy hair
UV (ultraviolet) rays can strip away hair cuticles and cause hair damage. Platinum ions penetrate to hair tips, preventing damage from UV rays.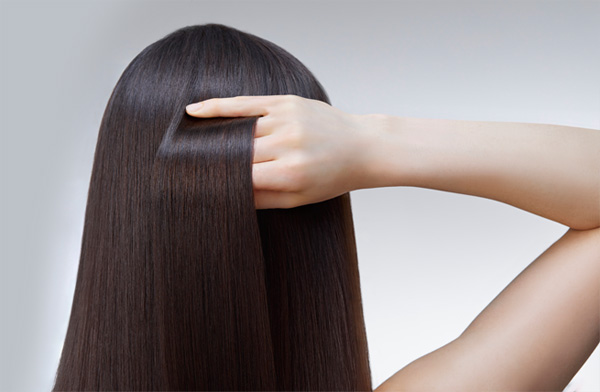 For healthy scalp
Moisture-rich nanoe® moisturizes your scalp, preventing it from becoming dry and stressed.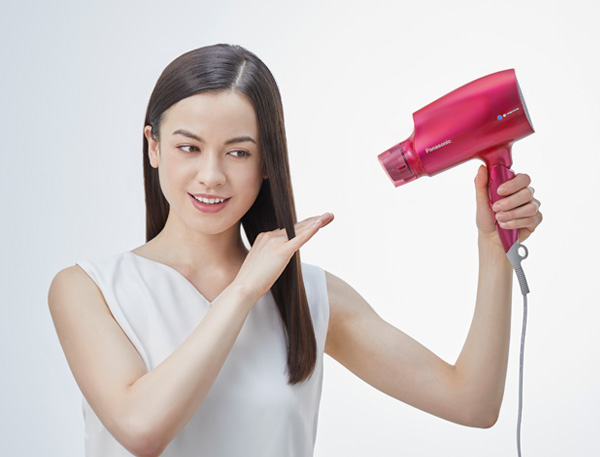 Heat Protection mode
50oC healthy mode to prevent hair damage from excessive heat.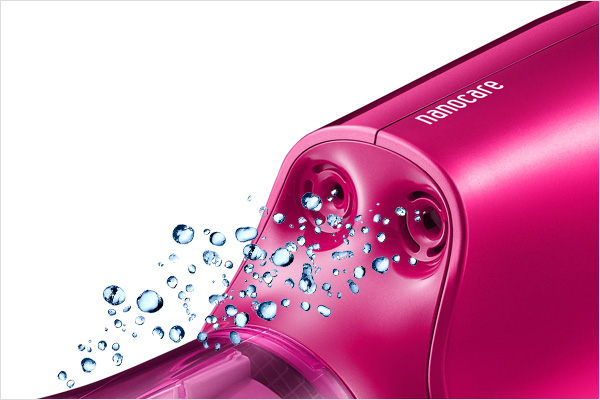 External ion outlet
nanoe® and negative ions lose some of their moisture in the hot air. To prolong their hydrating effect, Panasonic separates the outlet for nanoe® particles and negative ions from the outlet for hot air.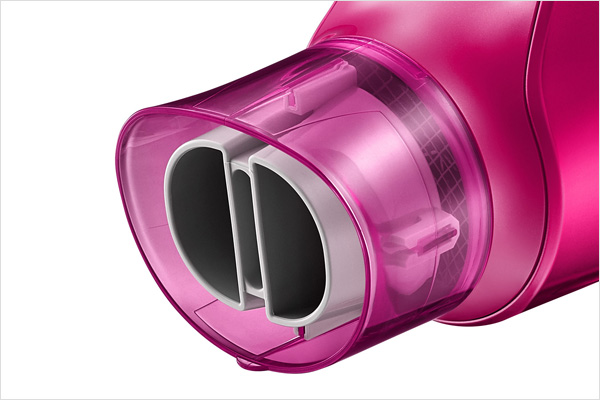 Quick-dry nozzle
Quick-dry nozzle emits alternating strong and weak airflows which separate hair strands to dry hair efficiently.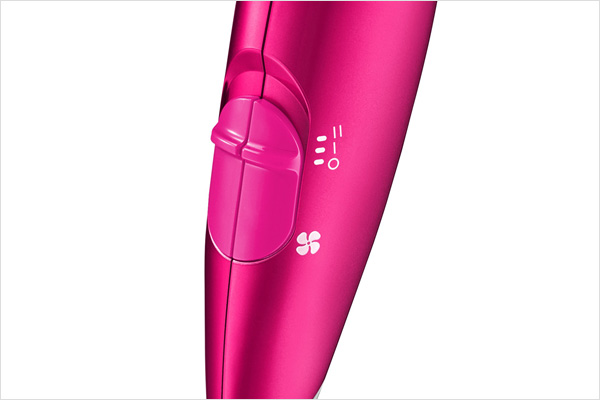 2-speed and 3-temperature settings
You can select the speed and temperature to match the condition of your hair and styling needs.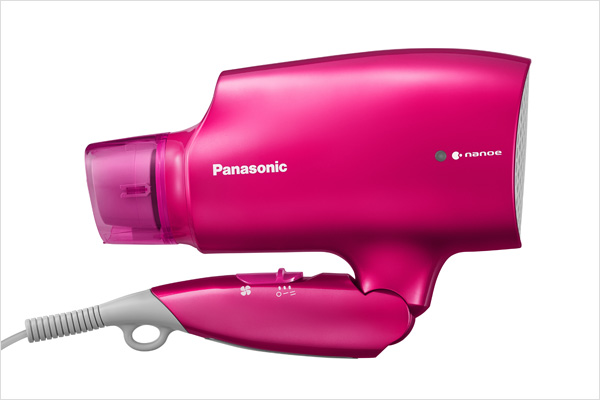 Foldable handle
Has a foldable handle so it can be stored compactly when not in use.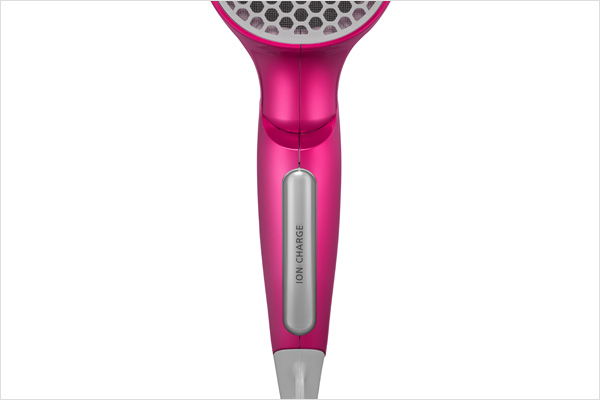 nanoe® ion charge panel
By touching the nanoe® ion charge panel while gripping the handle, the negative charge that has accumulated in the hair is drawn to the panel and released. This makes it easier for nanoe® to stick to the hair.
Specifications



nanoe® Hair Dryer

Beauty & Grooming

Hair Care Product

Hair Dryer

Ionity Model

Yes

Independent Ion outlet

Yes

Silent Design

No

Ionity control switch

Yes

Power consumption

1,600W

Cool Shot

No

Cool Air

Yes

Diffuser

No

Hot / Speed settings

3 heat and 2 speed selections

Foldable handle

Yes

Power

AC 220~240V

Body Color

Vivid Pink, white

Retail Price (HK$)

838